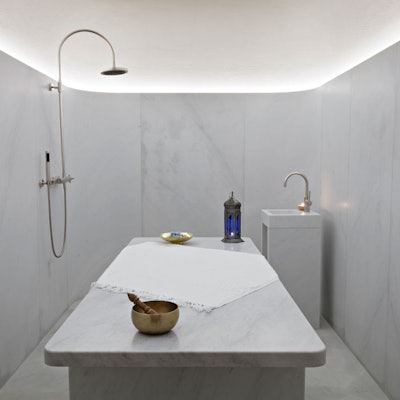 Need to Know
Named for a Sanskrit word describing the unity of the four basic elements, Akasha is nestled in the basement of the Hotel Café Royal, a subsidiary of The Set Hotels, just off London's famed Piccadilly Circus. Established in 1865, by the 1890s the Café Royal was regularly welcoming such famous faces as Winston Churchill and Oscar Wilde. It closed in 2008 but was later restored as a 160-room hotel, with Akasha opening in 2014.
Guests reach the spa through a separate ground-floor entrance, then descend the stairs to a subterranean oasis that feels a world away from the heaving masses outside. Clients could be forgiven for not going any further than the check-in area, a small café where shelves are lined with Aromatherapy Associates and Valmont products, and fridges stocked with Veuve Clicquot champagne and posh Hildon mineral water—but then they'd miss out on Akasha's true assets.
Comprising nine treatment rooms, including a double suite, Vichy room and private hammam, the facility also boasts a 60ft pool, yoga studio and a dedicated pool for Watsu sessions, which combine element of muscle stretching, joint mobilization, massage and Shiatsu. No modern spa worth its (Himalayan) salt can afford to skimp on wellness services, but Akasha goes above and beyond, with such off-the-wall offerings as intuitive counseling; crystal healing; Tulayoga, a two-part protocol that encompasses a floor-based oil massage performed to music, followed by guided yoga where the therapist supports the client in the air on their hands and feet; and the dramatic-sounding Bone Setting, a restorative energy treatment designed to release tension in the body and mind.
In addition, the menu covers facials, massages, waxing, nail services, personal training and nutritional therapy.
RELATED: Spa Snapshot – Anatara Spa, Chiang Saen, Thailand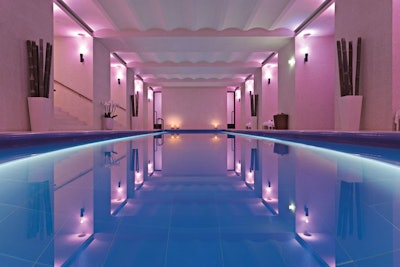 Business Savvy
The spa attracts a mix of local residents, spa members and business professionals who stop by before or after work. "We invest a lot of time in training the team and making sure they live the Akasha ethos," adds Robin Mauras-Cartier, regional spa director of The Set Hotels. "A key point is recognition: Whether someone is a returning hotel client or a spa member, we want to make sure the team recognizes them so we can tailor their experience to their preferences. This makes them feel like they are part of Akasha." The spa also makes an effort to engage regularly with guests on social media and TripAdvisor.
PHOTOS: Four Moons Spa, Encinitas, California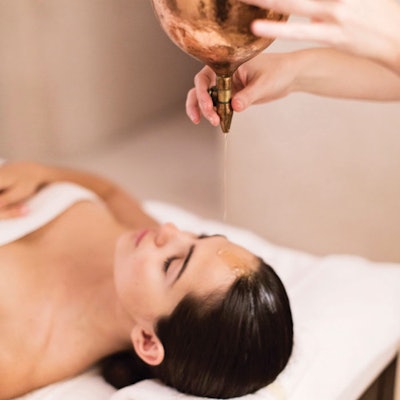 Signature Services
Akasha's hero treatment is the Ultimate Aromatherapy Associates Massage (60 min./$189; 90 min./$241), one of eight services showcasing the popular British brand. "Our Aromatherapy Associates services focus on a personal connection between the therapist and the client," explains Mauras-Cartier. "We take an intuitive approach where the guest's behavior and feedback are used to customize the treatment. This requires the therapist to have an extensive breadth of knowledge about the products as well as consumer relationships." For this massage, the therapist performs Swedish and neuromuscular techniques that encourage circulation and lymphatic drainage—with an oil of the client's choosing—to relieve muscle tension and help them recharge and relax.
–by Lesley McCave
This story first appeared in the April issue of Dayspa magazine. To receive the magazine, click here to subscribe.
---