The Destination
Opened two years after Thai hospitality and wellness brand Anantara's debut on the southern coast in Hua Hin, Anantara Spa draws its inspiration from indigenous wellness practices and elixirs blended with other Asian and Western techniques. The combination is most notable in the Anantara Signature Massage (90 min./$122), which targets meridian lines and/or acupressure points while applying Swedish massage strokes. A two-story open-air massage pavilion, nestled in the rice paddies and overlooking a stream, can be booked as part of a package that includes massage specials and breakfast.
PHOTOS: Four Moons Spa, Encinitas, California
Capturing Clientele
Spa visitors are predominantly hotel guests in this remote, rural location. As such, in-room fliers for limited-time specials and the spa menu, as well as social media posts depicting body and beauty treatments, are typically enough to entice bookings. "Our photos and videos highlight the serenity of the spa and our quality products," says spa manager Thichathorn Panomkarn. "We really want to focus on customer service," she adds. "Guests visit the spa to unwind—and part of that is feeling that they have privacy." To that end, the relaxation area is out of sight from treatment rooms, and Panomkarn notes that staff members are always warm and welcoming.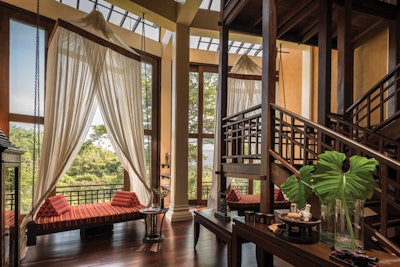 Management M.O.
Employees are trained by Minor Hotels' Mspa International, a spa and wellness consultancy that emphasizes the guest experience and the business' iconic identity. "I focus on a strong sense of teamwork in operations, and I share with staff my belief that every goal is attainable," says Panomkarn. "Whether they're communicating with guests, upselling, keeping track of tasks, or bringing a general sense of peace and quiet to the spa, our team possesses the sort of positive energy that ensures our clients have the best possible time here."
PHOTOS: The Spa at the Peaks Resort, Colorado
In-Demand Services
The Anantara Signature Massage starts with a relaxing foot bath, scrub and gentle stretching. The therapist then loosens and manipulates muscles with dry towels to release tension, and finally applies Meridian Line Oil, the spa's signature blend of rosewood, geranium, clary sage, mandarin and lemon, among other essential oils. The Poo Loey Massage (90 min./$122) harnesses the relaxing qualities of plai, a ginger-like root. Revered by Thailand's traditional healers for its therapeutic abilities, the ingredient is used in conjunction with massage and stretching to treat stiff, tense or aching muscles and joints, as well as relieve general fatigue.
The Goods
Anantara's signature massage oil, body scrub, body wrap and skin care are used in treatments, as well as Elemis facial products. A selection of Elemis items are also sold in the retail area, along with Thai silver jewelry.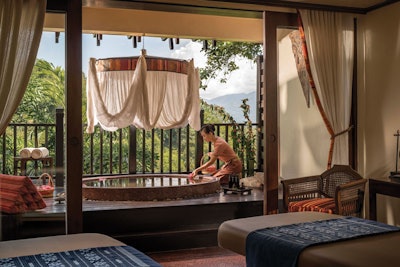 Owner: Minor Hotels.
Opened: 2003.
The Space: 3,500 square feet and 3 stories tall, with a salon; 2 treatment rooms with massage balcony; 3 couples suites with shower, herbal steam room, outdoor terrace and sunken terrazzo tub; and massage pavilion.
Staff: 1 spa manager, 6 spa therapists, 2 receptionists.
–by Andrew Dembina
This story first appeared in the March issue of Dayspa magazine. To receive the magazine, click here to subscribe.
With views across rivers to Laos and Myanmar, the remote Anantara Golden Triangle Elephant Camp & Resort offers a boutique experience at its Anantara Spa.