In fact, adjusting your offerings on a semi-annual basis makes good aesthetic sense, and that can be particularly true when it comes to fall's most ubiquitous fruit. "This is the perfect time to slough off all that dead skin from the hot summer sun, and pumpkin has natural exfoliating enzymes, as well as vitamins and minerals that nourish and hydrate," explains Grace Lo Hackerman, owner of Recoop Spa in Bellevue, Washington, where the autumn menu includes a Pumpkin Pie Wrap and Scrub (90 min./$175), and a Pumpkin Spice Pedicure.
The great gourd is key to seasonal fall services at Oasis Day Spa in New York City for similar reasons: "Our powerful antioxidant peel and mask combination is highly beneficial for repairing sun damage and hydrating thirsty skin," says owner Bruce Schoenberg of the spa's Pumpkin Spice Latte Facial and Peel.
RELATED: How Body Rejuvenating Services Can Boost Clients' Confidence
Of course, businesses do look beyond the pumpkin patch—and to their immediate surroundings—when concocting fall services. Recoop's scrub features pumpkin, but also includes organic brown sugar, vanilla extract, almond oil and cinnamon. "We make a lot of our scrubs and infused oils in-house using locally sourced, organic ingredients," reports Hackerman. In the same vein, Mr. C Spa & Beauty in Beverly Hills, California, offers Autumn's Vibrant Glow, which features a body scrub containing orange, along with essential oils, organic sugar and house-ground ginger. "It's the ultimate preparation for winter to exfoliate and infuse the skin and body with vitamin C," says spa manager Judy Beccera.
Outside of the treatments themselves, lots of little touches help coax clients into giving seasonal offerings a try. At Oasis, for instance, freshly picked pumpkins and scented candles with notes of cinnamon, orange and clove fill the rooms. Meanwhile, Recoop serves pumpkin chai teas, while Mr. C offers guests a glass of ginger-orange Prosecco prior to its fall-themed services.
To further pique interest, spas strive to promote their unique treatments well before they debut—and to emphasize that they won't last long. Oasis sends an email blast in advance of the coming season, followed by weekly Instagram and Facebook posts, as well as in-spa signage. "This allows clients to come back and receive a service they loved a second or even a third time," says Schoenberg. "They know that these treatments won't be around long, which makes seasonal menu items more enticing and special."
RELATED: 5 Summer Wellness Offerings
From the Menu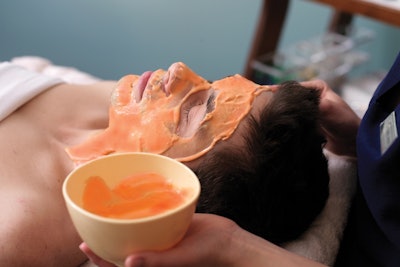 Pumpkin Spice Latte Facial and Peel: Thanks to nourishing omega-9 fatty acids and vitamin E, this firming treatment helps promote collagen production. After the face is fully cleansed, skin is exfoliated with a peel containing yam and pumpkin, followed by a calming chamomile tonic. A few drops of serum facial recovery oil and a thin layer of Éminence Stone Crop Masque are then applied. Next, a hydrating pumpkin latte mask is left on for 8-10 minutes, and the service concludes with a skin-appropriate toner, moisturizer, eye cream and SPF. (60 min./$150) Oasis Day Spa, New York City.
RELATED: Crystal Therapies Are Paving a New Path to Tranquility

Autumn's Vibrant Glow: To keep skin fresh, smooth and healthy during cooler weather, this invigorating and detoxifying invigorating and detoxifying a dry brushing, setting the stage for an exfoliating scrub containing orange, organic white s essential oils and freshly ground ginger. A private steam shower and 60-minute massage complete the service. (90 min./$205) Mr. C Spa & Beauty, Beverly Hills, California.
Pumpkin Spice Pedicure: Designed for the ultimate in warmth and hydration, this service begins with an aromatherapy pumpkin spice foot soak, followed by nail trimming and filing. An exfoliating LALICIOUS Brown Sugar Vanilla Scrub is next. Then, a hydrating house-made organic pumpkin hone mask is applied and, finally, the experience wraps up with a pumpkin spice buttercream massage. (60 min./$70) Recoop Spa, Bellevue, Washington.
–by Pamela Brill
---
It may still be summer, but soon enough the warmer weather and tropical scents will give way to a cooler climate and autumnal aromas. With these changes, spas will also be modifying their menus—appealing not only to clients' senses but also their needs for relaxing and restorative treatments that address season-specific beauty and wellness concerns.