InterContinental Hong Kong
's
I-Spa
is one of the bustling island's most relaxing urban retreats.
Ah, Hong Kong—one glance at its sparkling harbor and you'd think you could live in this exotic place forever. But turn away from the soothing waterfront to take in the sprawling metropolis and you'll suddenly feel it: the incessant energy of almost eight million people crammed onto a small island. Hong Kong is a city that seems to run on too much stress, too much noise and not enough trees. Indeed, while this former British colony perched on the southeastern tip of China may be world famous for many things—steamed fish so fresh it seems to wriggle on the plate, a futuristic skyline so ambitious it makes Manhattan look like an underachiever, a frenetic harbor crisscrossed with cruise ships, freighters and sampans—it is not exactly known for serenity.
That's one of the many reasons high-end spas have sprung up in every part of the city. In fact, luxurious temples of relaxation seem to anchor each five-star hotel, from the historic Peninsula's 12,000-square-foot facility to the atmospheric Oriental Spa at The Landmark Mandarin, with its nostalgic interior design echoing a gracious 1920s Shanghai. Against this backdrop, which is truly among the world's most competitive luxury spa scenes, one exclusive destination has remained a staple among Chinese tycoons, logoed ladies who dim sum, and a steady stream of celebrities since it first opened nearly four decades ago: The InterContinental Hong Kong's I-Spa.
RELATED: Spa Snapshot – Seven Inlets Spa, Shelton, Washington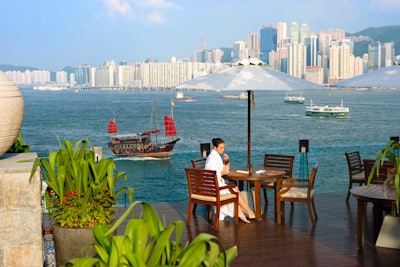 Approximately 75 percent of I-Spa patrons are hotel guests; the rest are locals who visit for a relaxing retreat within the city. To promote I-Spa, the hotel provides information about its offerings in a pre-arrival email confirmation, offers a monthly I-Spa special in its guest letter, and places the spa brochure in all guest rooms. To target the local market, I-Spa promotions are also showcased on the hotel's web page, and seasonal treatments are highlighted on social media.
The Road to Bliss
The path leading from the waterfront hotel to the spa is an artfully raked sand-and-stone garden that offers a transition from big-city bustle to a place of peace; the spa opens with a bright, wood-lined space, neatly showcasing its range of skin and body products. Designed for the ultimate in private pampering, I-Spa has eight therapists from Hong Kong, Japan and Nepal, and contains only five suites—each one clad in floor-to-ceiling green granite—along with a mani/pedi area and a room for waxing treatments.
PHOTOS: Spa at Adare Manor, Adare, Ireland
The entire property is touted as one of the most feng shui buildings in all of Hong Kong. Prior to its completion in 1980, feng shui master Jackie Chan (not that Jackie Chan) performed a consultation in which he advised certain changes to revitalize the energy of the spa specifically, including the installation
of a metallic sculpture that was notably smooth and shiny, featuring Chinese characters that read, "Wishing you smiles and happiness." Chan also suggested a pond with either four or seven goldfish to be kept there at all times (according to feng shui beliefs, if a fish were to die it would be removing negative chi from the property, and that fish would then need to be replaced). Finally, the master gave each spa suite a Chinese name, advised on signage placement outside every door, and offered positive energy tweaks. As a result, one suite has an interior door painted gold, another required a prominent element in red, and in yet another suite, the direction of the spa bed had to be shifted. "All of these small touches help improve the flow of chi and create a calming ambience," notes I-Spa director Sandy Lam.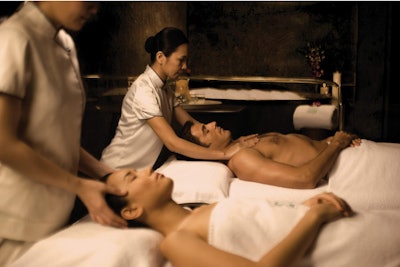 Exceptional Service
I visited I-Spa to sample the signature "Chi" Balancing Massage (90 min./$200), which is "designed to restore a harmonious flow of energy (chi) and vitality" according to the spa menu. Given that I went from stepping off a 14-hour flight from Los Angeles to making my way through the Hong Kong crowds and pollution all morning, my chi needed balancing in a big way.
PHOTOS: Na Ho'ola Spa, Hyatt Regency Waikiki Beach Resort & Spa
The spa's most popular treatment, this massage offers just about everything an international spa-goer might crave. "The majority of our clients are looking for a massage," says Lam. "The Chi Balancing treatment combines different techniques, using the forearms and acupressure, along with Swedish massage and aromatherapy. Guests love the warm oil we use and enjoy the unique combination of techniques, specifically the pressure point work, stretching and forearm rolling."
My therapist, Changto Salinthip, dressed in a crisp white Mandarin-collared pantsuit, welcomed me with a slight bow and led me to the inner sanctum of the spa. The rest area is a softly lit sliver of space made comfortable with such natural textures as marble walls, linen chairs and tables cut from richly grained wood, while abstract sculptures and white orchids give the area a warmth and sophistication. Here, Salinthip delivered a glazed tray with a single fuchsia orchid and a warm glass of a delicious ginger, lemon and honey tea "to relax and detoxify you," she said. She then brought me to my private suite, where I spent 30 minutes before the treatment alternately frolicking and relaxing in the sauna, steam shower and Jacuzzi. (This suite access costs roughly an additional $30 for hotel guests, and $40 extra for those only visiting the spa.) It was in this quiet, peaceful room that I finally felt the luxury of space and time.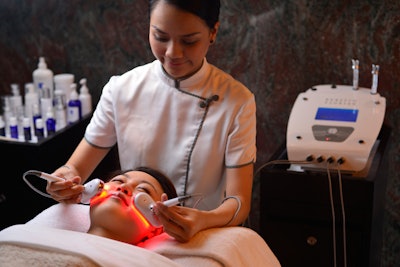 "I-Spa may not be the largest or the newest spa in town," says Lam, "but we offer our guests quality treatments and exceptional service. Our therapists are trained not only in skill, but also to educate guests about well-being so they can take that knowledge home with them." The spa recruits based on therapists' qualifications and experience as well as their passion and attitude, notes Lam. And the InterContinental emphasizes training and professional growth with established programs like Room to Grow, in which employees are able to continue learning and developing as therapists.
For my treatment, Salinthip had me sit on the massage table and wrapped steaming hot towels around my feet—a small detail, but ideal for anyone who's spent the day traipsing up and down Hong Kong's steep hills. Once I was stretched out on the table, she poured warm oil—infused with ginger, clove and sweet almonds—onto my back and limbs to stimulate circulation and detox. Using a combination of acupressure and palm-stroking movements, Salinthip spent the next hour soothing my stiff muscles, the highlight for me being two muslin-wrapped balls filled with fragrant Thai herbs, which she pressed into my skin to further release tension.
At the conclusion of the treatment, my own chi balanced at last, I was given another cup of ginger tea and encouraged by Salinthip to "Take your time and enjoy the suite." As I jumped back into the Jacuzzi, I made sure to do exactly that.
–by Alison Singh Gee
Designed according to feng shui principles, the