ISPA
)'s latest Consumer Snapshot Study found that 49 percent of spa customers are men (up from 29 percent in 2005). "With more and more spas customizing services for men, it's no surprise that nearly half of spa customers are male," says ISPA president Lynne McNees. "And, as treatments catered to improving golf games and infused with beer have become more easily accessible, spa-going has become well-established as a core part of the male wellness regimen. Our recent research shows that the desire to reduce or relieve stress remains the No. 1 reason men and women visit spas."
Although men-only spas have increasingly cropped up to pamper this long-underserved market, unisex facilities have also jumped on the bandwagon, making guys a priority with services that meet their specific needs. For ideas of how you can successfully attract (and retain) male clientele with targeted treatments, look no further than the following five offerings.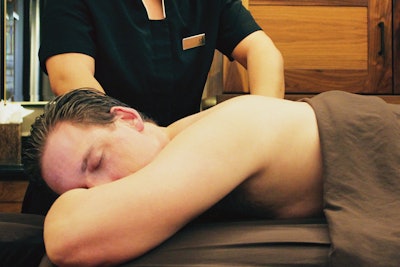 Chuan Spa at The Langham Huntington, Pasadena, California
The Service: Chuan Man's World (75 min./$230) is a multi-step service that includes a replenishing back exfoliation, relaxing massage and purifying facial wash designed specifically for men.
PHOTOS: Na Ho'ola Spa, Hyatt Regency Waikiki Beach Resort & Spa
The Guy Factor: Therapists place extra focus on the client's back and face, which tend to hold more dirt and oil due to sweating, leading to clogged pores. The first-step exfoliation process is key to removing accumulated grime.
Why Dudes Dig It: "This is our most popular men's service," notes Holly Edgin, Chuan's director of spa. "Men love it because they get pampered and the esthetician can pay attention to neglected spots like the back. We use hot towels to open up the pores and moisturize while removing blackheads and dead skin, leaving smoother, softer, hydrated skin."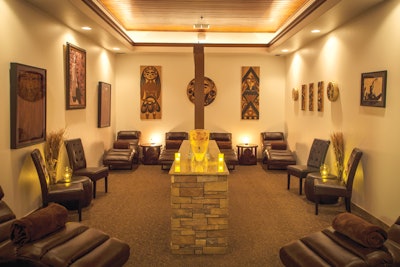 Seven Inlets Spa at Little Creek Casino Resort, Shelton, Washington
The Service: The Gentleman's Facial (50 min./$110) utilizes active herbal ingredients, vitamins and antioxidants to repair, soothe and hydrate dull skin. Standout features include a moisturizing mask that firms and brightens, and a soothing scalp and hand massage.
The Guy Factor: The spa employs Ilike Organic Skin Care products, including the Black Exfoliating Wash formulated for men's skin. Estheticians provide an extra exfoliation and repair step during this facial, because male clients' skin often needs a little more TLC; they finish with a whipped moisturizer that softens and regenerates.
PHOTOS: Lake Austin Spa Resort, Austin, Texas
Why Dudes Dig It: "The most common feedback I've heard is, 'I didn't even know my skin could feel this soft,'" laughs spa manager Sally Perkins. "A lot of men have a totally different idea of what facials consist of, and they may even think that they're only for women. But once guys receive their first facial, they're hooked and almost always come back for another!"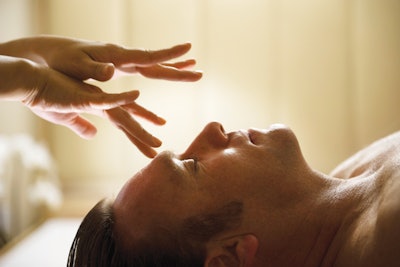 The Spa at Mandarin Oriental, Las Vegas
The Service: The Tao of Man (90 min./$265 Mon.-Thu., $305 Fri.-Sun.) is a therapeutic massage designed for active men. Moist herbal compresses are used to warm and soothe tight muscles and joints, aided by an active herbal massage cream and the East Asian gua sha massage technique.
The Guy Factor: Gua sha tools made from jade provide a luxe touch, but they're also results-oriented, stimulating circulation in deep-seated, tension-prone areas on the back and legs after the introduction of heat and therapeutic massage. The technique also helps reduce and relieve muscle inflammation.
PHOTOS: The Spa at Four Seasons Resort The Biltmore
Why Dudes Dig It: "I've noticed that male spa-goers are typically drawn to massage to soothe their muscles," explains Jennifer Lynn, senior director of spa and wellness. "They like to be told plainly what it does and how it helps; it's a great suggestion for a regular massage recipient looking for deeper therapy."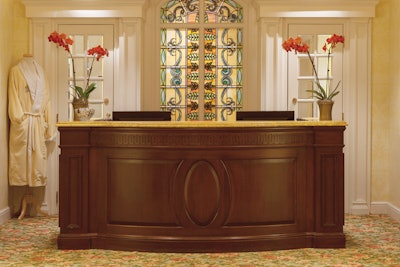 The Spa at The Hotel Hershey, Hershey, Pennsylvania
The Service: The Gentlemen's Whiskey Body Scrub (30 min./$75 Mon.-Thu., $80 Fri.-Sun.) helps diminish signs of aging for smoother skin, with whiskey extracts and essences, and a hydrating moisturizer.
The Guy Factor: Down-home, natural ingredients are easy for men to understand—and can still offer a plethora of skin-boosting benefits. The scrub's barley and corn slough off dry, damaged skin cells; frankincense and black pepper essential oils help relieve muscle tension, spasms, aches and pains; and corn and rice bran oil heal chapped, rough surfaces.
Why Dudes Dig It: "Men enjoy this service not only for the natural whiskey scent, but also for the results," says spa sales manager Jessica Davis. "It's so relaxing and leaves skin soft and rejuvenated, reversing the effects of daily wear and tear on the body."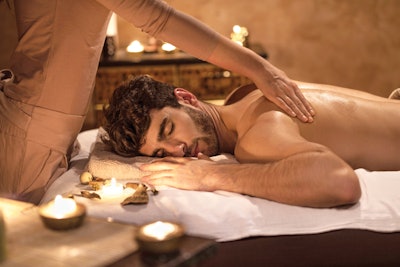 The Retreat at Serendipity Province, Valparaiso, Indiana
The Service: The Executive Massage (60 min./$75; 90 min./ $105) eases tension and increases flexibility for overworked or athletic male clients. The tailored treatment concentrates on relaxing the shoulders, upper back, chest and hips depending on the guest's specific needs.
The Guy Factor: Therapists combine a number of modalities: Dry brushing brings the blood to the surface and increases massage efficacy, while vibration and ultrasound help loosen any tightness. Then, hot stones and bamboo soothe sore muscles, mustard liniments are massaged into the skin to keep muscles relaxed, and cupping and gua sha techniques help to draw out toxins.
Why Dudes Dig It: "Men with more physical jobs are more likely to experience strained muscles and general stiffness," relates Laura Ott, owner of The Retreat. "This massage can ease those issues while increasing their overall well-being, ensuring the best physical and mental health for our male clientele."
–by Tracy Morin
After years of growth, it's clear that male spa-going has finally been embraced as a norm. Recent industry figures certainly paint a positive picture: The U.K.'s Esquire declared that "One of the best things about being a man today is that any stigma about going to spas has long since been rubbed away," The Wall Street Journal reported that men's spa vacations are a growing company perk for overworked execs, and the International Spa Association (