Need to Know
Nestled in a Napa Valley hillside, 75 feet beneath a vineyard on The Meritage Resort's grounds, the 12,000-square-foot Spa Terra (Italian for "earth") is the only subterranean full-service spa in the U.S. The wine country hideaway maintains a constant 70-degree temperature and features a Vichy wet room, four couples' rooms, his-and-her private lounges, separate men's and women's whirlpools and steam rooms, and a co-ed Serenity Lounge. All 12 candlelit treatment rooms are named for Italian cities, such as Portofino and Napoli.
RELATED: Iridium Spa St. Regis Maldives Vommuli Resort

Noteworthy
The windowless spa's Old-World ambiance is enhanced architecturally with natural stone, mosaics and copper accents. The boutique stocks ESPA products—which are used in many of Spa Terra's services—plus local organic lines such as NV Organics, Matanzas Creek, Tara and Turtle River Soap Company, which "represent our commitment to our community while promoting health and wellness for our guests," says interim spa director Magdaleena Nikolov.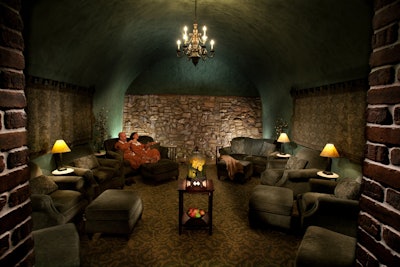 RELATED: A Trip to the Eminence Organic Farm in Hungary
Signature Service
Guests can soak up the spa's wine-themed services, some of which kick off with a glass of bubbly. The signature Solo Vino package (100 min./$270/Mon.-Thur., $290/Fri.-Sun.) features a massage, Cabernet grapeseed scrub, and body wrap using "wine cave mud," a grapeseed clay high in antioxidants and vitamins C, D and E. "Grape seeds are a natural way to invigorate the skin and leave a healthy glow," says Nikolov. "Wine is a natural part of our culture here, so we don't need to oversell it: It's just one element of Spa Terra's immersive experience."
–By Vicki Arkoff