Learn how the operators of five properties around the country are forerunners in the environmentally friendly spa field.
Ever since a "green" spa philosophy was pioneered by Mexico's Rancho La Puerta in the 1940s, the path to client and environmental wellness has been paved by passionate thought leaders who view sustainability as a responsibility rather than a trend.
Along with eco-friendly spa practices, guests have also evolved to be more savvy, and connect their personal well-being with social and environmental health. "According to a 2013 American Lives marketing survey, there's a 90 percent overlap between wellness-oriented consumers and environmentally oriented consumers," says Rianna Riego, founder of spa consultancy firm Global SpaVantage and recent executive director of brand & wellness at Two Bunch Palms, California. "We need to fully commit to reform as a way of signaling our intention to tread as lightly as we can on this Earth."
Exceptional spas establish sustainable practices that go beyond plastic recycling, paper reduction and the use of nontoxic products. The U.S. Green Building Council reports that LEED-certified criteria can provide nearly 40 percent of the global climate change challenge through cost-efficient and energy-saving green building design, construction, operation and maintenance. But that's just a part of the solution. As demonstrated by the following five inspiring spas, there are endless innovative ways business owners can make significant local and global impacts.
RELATED: Spa Therapies Inspired by Centuries-Old Native American Rituals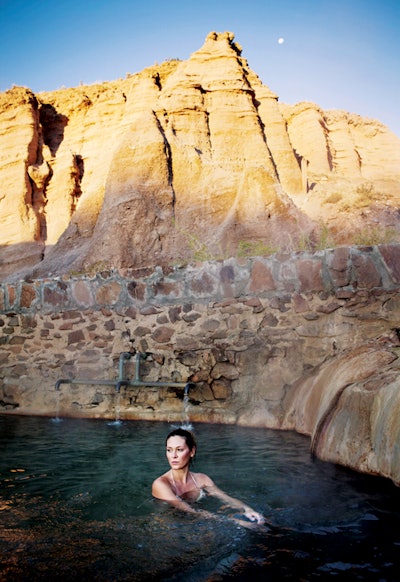 Ojo Caliente Mineral Springs Resort & Spa, Ojo Caliente, New Mexico
The Space: 4,000-squarefoot spa with 16 treatment rooms, 4 natural hot springs pools, 3 private pools, private tubs, steam room and sauna.
The roots of this historic destination spa, set on 1,100 acres, can be traced back thousands of years to pilgrimages by Native American tribes and early Spanish settlers. In 1868, the first bathhouse at Ojo Caliente—"warm eye" in Spanish, referring to the area's hot springs—was built, establishing the place as one of the country's first natural health resorts. "We share responsibility for this sacred place and its culture," says current owner Andy Scott. "Our biggest commitment to sustainability is water protection: resources, cleanliness and quality."
To that end, Ojo Caliente utilizes passive rain collection, xeriscaping (landscaping that requires little or no irrigation), low-flow plumbing fixtures, and solar energy to heat water; it also operates its own wastewater treatment plant. "The spa's philosophy is to honor and protect the sacredness of the property and the waters while creating a safe and nurturing environment for guests," says spa director Jeannine Mallory. "Our greatest challenge is communicating the importance of protecting the sulfur-free waters by asking clients to use oil-free sunscreen and shower with our synthetic-free cleansers before entering the pool."
Spa treatments incorporate organic Round Barn Apothecary skincare products, which are formulated with sustainable plants and herbs indigenous to the Southwest. Wild herbs used in hot towel treatments are returned to the gardens as mulch, and clients lend a green thumb by writing an intention or wish on a seeded card, which is then planted near the yoga yurt to bloom into wildflowers.
More evidence that Ojo Caliente isn't resting on its 150-year-old laurels? The entire pueblo-style property recently converted to the use of geothermal heating and cooling, and added an organic farm-to-table program.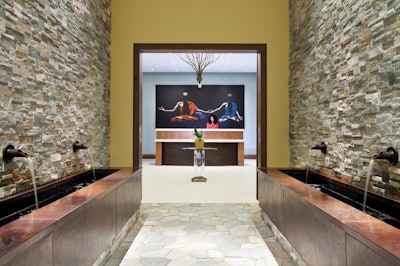 Salamander Resort & Spa, Middleburg, Virginia
The Space: 23,000-squarefoot spa with 14 treatment rooms, aromatic steam rooms, relaxation lounges, and spa courtyard with a private pool and whirlpool.
Situated on 340 acres of a wetlands conservation area, Salamander set its responsibility standards high during its planning stages. When it opened in 2013, it became the first new luxury resort and spa in the country to achieve LEED Green Building certification in six categories: site control, water use, materials, energy, indoor air quality and innovation of design. Eco-friendly design elements include recycled building materials, low VOC paints and carpets, landscaping with native plants, and unobtrusive light fixtures to preserve nocturnal views and minimize light pollution.
The spa features natural lighting; is equipped with water-, heat- and energy-efficient fixtures; and uses linens that can be washed at low temperatures. Unused massage oils are repurposed into candles, and local, fair trade and organic-forward products by the likes of Lab of Flowers and Zents are favored. In fact, all brands used in the spa are free of formaldehyde, BPA, toluene and dibutyl phthalate.
This health-first policy benefits employees as well as guests. "Our therapists touch products all day long, absorbing them through their skin," says spa director Cindi Moreno. "It's my responsibility to ensure that they're not regularly exposed to chemicals or artificial ingredients."
Being acknowledged as a leader in sustainability is as important to the Salamander staff as being recognized for high service standards. "It takes persistence to commit to sustainability practices," says Moreno. "I encourage spa owners who want to care for their team and the environment to start small and build sustainability practices over time. Every little step can make a longterm impact."
RELATED: 12 Easy Tweaks to Incorporate Eco Design Elements Into Your Spa
Two Bunch Palms, Desert Hot Springs, California
The Space: 5-acre spa including 3,000 interior square feet, 22 treatment rooms, 2 mud-bath cabanas, Watsu therapy pools, hot springs grotto and a 3,200-square-foot yoga dome
Two Bunch Palms recently became the first carbon-neutral resort spa in the U.S. as a result of its green ethos emphasizing the connectivity between individual, community and planetary health. Hot, mineral-rich artesian waters, mud baths and New Age therapies have drawn celebrities, mobsters and naturalists alike to this desert getaway for nearly eight decades. It wasn't until 2015, however, that the facility's leanings toward ecological preservation took a gigantic leap forward, when its owner committed to a mantra of sustainable wellness that challenges—and arguably eclipses—LEED standards.
The plan centered on the construction of a 3.5-acre solar field to generate 100 percent of the 270-acre property's electrical power. "We felt that if we truly cared about the health of our guests, then we needed to 'walk our talk,'" says Rianna Riego, recent executive director of brand & wellness at Two Bunch Palms. "Over a 21-year period, the solar fi eld will prevent 13.5 million pounds of carbon emissions from entering the atmosphere, and will save 375 million gallons of water. It also aligns our mission with the values of our guests."
Sun and wellness seekers come to "take the waters" as well as experience spa treatments, Eastern medicine, healthier dining, and fitness classes both outdoors and inside a 3,200-square-foot yoga dome. The property is now operated by JRNL Two Bunch Palms, whose plans for the next two years are to rebuild the spa by adding expanded retail boutiques, multipurpose treatment rooms, larger fitness and movement spaces, and further mineral water pools and grottos.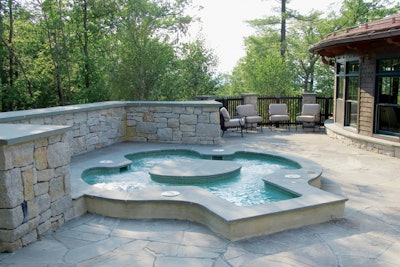 Mohonk Mountain House, New Paltz, New York
The Space: 30,000-squarefoot spa with 16 treatment rooms, salon, fi tness center, yoga/motion studio, roof garden terrace, solarium, steam rooms, saunas, outdoor mineral pool, and heated indoor pool with underwater music.
It's impossible to overstate the green impact made by the eco-trailblazing descendants of brothers Albert and Alfred Smiley, who founded Mohonk Mountain House in 1869. Set in a forested preserve, the majestic property is a Historic National Monument that's recognized by the United Nations Environment Programme for its "dedicated leadership and commitment to the protection and enhancement of the environment."
Built in 2005 following LEED standards, the sprawling spa facility incorporates nature into all aspects of its architecture, design, decoration and programming. Six hundred tons of local stone was recycled for its construction, and the material is also ground for use in the Shawangunk Grit exfoliating body treatment. A 2,000-square foot green roof garden terrace insulates the lower floor and hosts wellness classes including yoga, Qi Gong, Pilates and meditation.
"Indigenous principles steer every choice we make in the spa, from our organic product selection to the Ikaati teas we offer," says assistant general manager Barbara Stirewalt. "We benefit from an on-site team of biologists and plant specialists who guide our ingredient selections." The Mohonk Red Massage, for example, honors mohonk red witch hazel, which grows on the grounds.
An extensive recycling and composting program cuts Mohonk's landfill waste in half, a geothermal system heats and cools the building to eliminate emissions, and an integrated pest management program reduces the need for pesticides. A partnership with Clean the World collects recycled soap to send to countries in need of hygiene supplies, and sales of Éminence products has planted some 8,000 trees. "Our eco-friendly spa embodies all the qualities we envisioned from the outset," says Albert Smiley, president and CEO, and fourth generation descendant of Mohonk's founders.
RELATED: Spa Pros Reveal Their Methods for "Green" Spa Success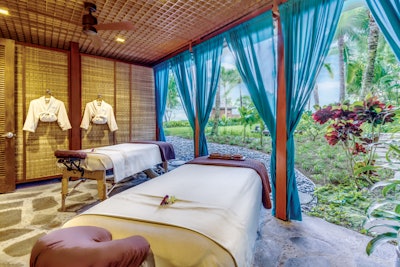 NaluKinetic Spa at Turtle Bay Resort, Kahuku, Oahu, Hawaii
The Space: 4,200-square-foot spa with 9 indoor and open-air garden treatment rooms, seaside cabana, 6,300-square foot fitness and movement facility, salon, outdoor relaxation area, sauna, steam room and chlorine-free saltwater pool.
Even on an island that's no stranger to eco-friendly establishments, Turtle Bay stands out. In 2013, five years after opening, it added a unique green roof covered in 1,500 solar panels to produce eight percent of its daily electricity quota. In fact, the 88-acre property went all-in to become one of Hawaii's most sustainable resorts when it set a goal to reach 70 percent energy independence by 2030. Over the next decade, management predicts a reduction in fossil fuel usage equivalent to 4.3 million pounds of carbon dioxide emissions. "The big thing in Hawaii is 'Aloha Aina,' a love and care for the land," says wellness director Avigale LaGrass. "That's why our philosophy is to go green and organic."
Due in part to a $45 million resort makeover, Nalu Kinetic Spa offers a reimagined, green-focused mind-body program that fuses spa and fitness. LaGrass literally takes spa-goers outside the box: Nalu's new relaxation area and six treatment rooms open onto lush outdoor spaces. "Guests can smell the ocean, hear the birds and really embrace nature," she says.
Naturopathica and Skin Authority facial treatments harness nurturing elements from organic sea algae to botanicals like awapuhi (ginger) and kukui nut. Sheets and sandals are made of bamboo, and cleaning products are environmentally safe. Water waste was cut by upgrading toilets and showers, and lighting was converted to compact fluorescent light bulbs for a first-year wattage decrease of 12 percent. Guests can park e-vehicles at free charging stations. And in an effort especially fitting for a property on the world-famous surfing coast, plastics and Styrofoam are repurposed through a partnership with Waste to Waves, which turns trash into surfboards.
–by Vicki Arkoff