Many marketing pros think there's a case to be made for spa owners to become authors.
What makes spa-goers choose your establishment over the one across town, or across the street? Long gone are the days when a big sign and a catchy name will do the trick. Today's spa aficionados are information seekers. They want to know that the businesses they patronize are knowledgeable and experienced, and that the services and goods they purchase will be worth their investment.
Enter "authority marketing," an approach based on the premise that in today's data-driven climate, business owners who actively position themselves as experts in their field have a leg up on the competition. "When people go searching for a spa or medspa to get a treatment, first they're going to look at its website," says Dori Soukup, founder and CEO of spa consultancy InSPAration Management, and an authority marketing proponent. "And if it doesn't mention a book or video—some special engagement to differentiate that business from others—then it's 'just another place.'"
RELATED: Professionals Choice Awards – Skin & Face Winners
Publishing your own book, Soukup says, can be a useful way to set yourself apart from other spas in the area. A book enables you to establish yourself as an expert, and gives you something concrete around which to build a marketing plan. Soukup should know: For years, the spa-turnaround specialist, teacher and speaker has been penning books, many as part of her company's Spa Business Success Library. She has also helped about 40 spa owners publish titles.
But you don't have to release an entire series to benefit from committing your knowledge to text. Just ask Cindy Cobb, owner of medspa and salon Allure Enhancement Center in Lafayette, Louisiana. Cobb, who wrote Turning Back the Hands of Time (CreateSpace Independent Publishing Platform, 2016), found publishing a book to be major validation. "I believe the book enhances my reputation within the community and shows I'm serious about what I do," she says. "It demonstrates that I care enough to help educate people in making decisions when they seek aesthetic services, and that I'm the expert I proclaim to be. Basically it says, 'I know what I'm talking about.'"
Here are some tips and ideas on how to join the ranks of published experts.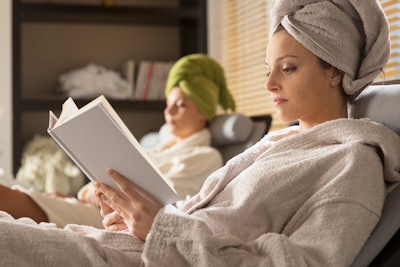 Pool Your Resources
There's no doubt about it: Writing a book takes time and effort, but you can streamline the process by inviting input from fellow experts. Beth Pestotnik, owner of Skin Essentials Medical Skin Care & Day Spa in Littleton, Colorado, did just that. Her book What You Need to Know Before You Go to The Spa (CreateSpace Independent Publishing Platform, 2015) gathers the expertise of several spa owners. Pestotnik wrote one chapter of the book, and eight other owners—all of whom participated in a book-writing seminar Soukup holds for spa owners—each contributed a chapter about his or her area of specialty. The resulting 170-page volume was configured so that each author has a version with their title and name as the featured author on the cover, their own chapter appearing first and their bio on the back.
For Pestotnik, the venture has been more than worthwhile. "It's something our competitors aren't doing," she says. "And we're getting the knowledge out to all of our existing and future customers. People retain so little information when you're actually speaking with them, so this is a nice educational tool to help them continue on the learning path and go deeper if they want to."
New Skin Essentials guests receive a complimentary hard copy, and potential clients can download a free digital version from the spa's website. Pestotnik reports that now, 25 or 30 people per month enter their email address on her spa's website in order to download it—another marketing opportunity in itself. (The book is also available on Amazon.)
A further plus: the minimal expense. Pestotnik shares that it cost her about $700, which covered everything, including editing and printing, as well as 200 copies. "The whole thing was easier than I thought," she says. "The most difficult process was the final edit: I wanted to get everything down and word it correctly." But it paid off: "People are impressed with the book.
RELATED: Build Winning Relationships with Your Skincare Vendors
Plus, we got a lot of press coverage and recognition. It's something I'm very proud of," adds Pestotnik. Cobb, too, says that writing her spa book was much easier than she anticipated. "It was a very quick process, and a lot less stressful and time-consuming than anything else I've written," she reports.
The team approach also worked well for plastic surgeon Samuel Shatkin, Jr. M.D. He collaborated with his wife, the proprietor of the couple's Buffalo, New York-based medspa, Aesthetic Associates Centre, and his nephew (also a plastic surgeon) to write S.M.A.R.T. Aesthetics (CreateSpace Independent Publishing Platform, 2017). "Collectively, we covered all aspects of the field of aesthetic surgery and medical aesthetics," says Dr. Shatkin.
When people call in, Dr. Shatkin's office immediately sends them a digital copy of the book so they can start reading and learning about the procedure they're interested in. "It's an educational tool as well as a marketing tool," he says. "It brings people in because you're an expert. You have a book with your name on it. You instantly become the authority. I think that makes a big difference for potential clients."
The Write Stuff
But how, exactly, do you write a book? After all, you're a spa owner, not an author! Sitting down in front of a blank screen can be daunting, but you might try Soukup's quick and efficient method: Create questions about a chapter's focus and then have someone interview you using those questions. Record your responses, send the file to be transcribed (one professional transcription agency is rev.com) and when it comes back, make any necessary corrections.
In Soukup's book-writing seminars, spa owners are able to create the bulk of their content in a single weekend.
In addition to solid content, two other factors separate high quality books from amateur ones. The first is proper editing. It's not enough to have your sister or friend who is an English and grammar whiz go through the manuscript; you need to hire a professional experienced in editing books for publication. Second, it's critical to work with a skilled designer to create your book's front and back covers and spine. People do, in fact, judge books by their covers and if yours doesn't look professional, clients are unlikely to open it.
Once the book has been written, edited and designed, it's ready to be printed. Amazon's self-publishing arm CreateSpace is inexpensive, fast and easy to use, and has no upfront fee. The print-on-demand publisher considers the book's size and length as well as paper choice, then informs the author how much they will take from the cost of each book sold. The author then sets the book's selling price at any point above that.
Don't cut corners and sabotage your hard work with poorly edited content or an unpolished cover. Authority marketing and its resulting credibility come from working at a professional level. Says Dr. Shatkin, "Books are great tools for people to promote themselves and build their personal confidence. They also allow clients to be confident, knowing they have that authoritative book in hand."
–by Lisa Lang