RELATED: Ciel Spa at the SLS Hotel, Beverly Hills
Emerson Spa was originally built across the street from its namesake resort, which burned down in 2004. Though the spa was untouched, a new on-property facility was developed in the rebuild. When it was time to renovate in early 2016, "It worked out perfectly because we were able to utilize the old space— everyone stayed employed!" explains Zabel. At 6,193 square feet, the new space includes seven treatment rooms, three couples' suites, a nail room, a quiet room with a fireplace, a large outdoor deck space featuring a saltwater Jacuzzi, and male and female locker rooms, each equipped with a steam room and sauna.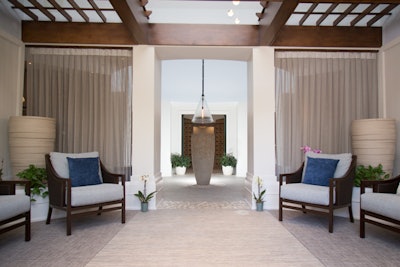 The spa's Integrative Massage (120 min./$225) is completely customizable. "We love this offering because our MTs get to showcase everything they can do," says co-spa director Christina Burns. "Clients come in and sit with their therapist for an intake and to discuss their needs. Then, the therapist opens up their toolbox and gives them the ultimate massage." The menu also boasts an extensive list of couples' treatments, including a VIP Soak and Massage (120 min./$400), which offers twosomes a Himalayan salt soak, 90-minute massage, an artisan platter of local cheeses and wine.
–by Rachel Kossman
Located 115 miles from New York City, this newly renovated Catskill Mountain escape is billed as the perfect place for drained tristate residents to decompress. "When guests sit on our deck looking at the mountains and the Esopus Creek, it's so serene and calming," says co-spa director Liz Zabel. "We provide a great way to rejuvenate, commune with nature and just chill out."