A Tribeca bathhouse transports guests to Ancient Rome with a luxe, modern spin.
One of NYC's hippest neighborhoods, Tribeca is home to numerous celebrities, who are frequently spotted perusing the latest looks in the area's boutiques, tasting the dishes du jour at its hottest restaurants or checking out the newest releases during its namesake annual film festival. Yet, all that in-the-moment trendiness evaporates as soon as one sets foot in Aire Ancient Baths New York, where the stated mission is to create "a retreat that brings antiquity back to life, to a time when the public bath was a feast for the senses." Aire developers didn't just smack on the "ancient" label and call it a day. Based in Spain, Grupo Aire (which has several European properties as well as a planned Chicago venture) models its Thermal Circuit of pools after fifth-century B.C. Greco-Roman traditions, when the well-sandaled ritually partook in a series of hot and cold baths followed by fragrant oil rubdowns. The practice is alive and well— and available for everyone to enjoy in affordable 90-minute sessions ($77 on weekdays, $87 on weekends).
Finding a place to plop Ancient Rome in Manhattan was no easy task. "Location is always very important," says Aire NY spokesperson Silvia Barnett. "For all our projects we choose historic buildings, which we restore with an eye toward their character and past." Such character was found at 88 Franklin Street, a 16,000-square-foot property built in 1883 that functioned as a textile factory and was more recently used as an art gallery. Before Aire opened its doors in June 2012, the space underwent a $10 million renovation, during which its interior was stripped away to expose red brick walls, cast iron columns and wood beam ceilings that soar over 20 feet high. The result is a windowless basement of wonder dimly lit by countless candles, lanterns and chandeliers. Haunting Moroccan music accompanies the movements of the bathers, who cast shadows on the walls and white stone pools. If it all looks eerily familiar, it's not because Aire has been ripped from your wildest dreams—the facility has served as a set for TV shows and films such as Gotham, The Mysteries of Laura and Billions, as well as a long shoot-'em-up scene in John Wick.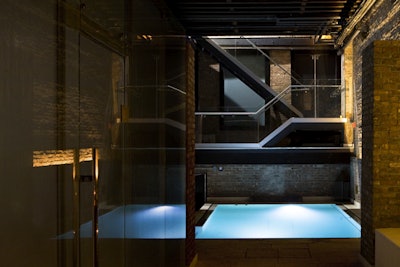 Before descending to the baths, guests check in at a contemporary lobby with floor to-ceiling glass windows. Most services can be booked online, and sessions begin every hour on the hour from 9 a.m. to 9 p.m. Those hoping for a Thanksgiving or Christmas Day soak are in luck—Aire is open seven days a week, 365 days a year. The pools themselves are co-ed, but there are separate men's and women's changing rooms stocked with luxe L'Occitane products and featuring a wall of mirrored vanities lined with everything a client might need. Should an item not be readily on display, the staff will do their best to find it. Guests bring their own bathing suits (nudity is a no-no), but Aire provides waffle robes, towels and slipper socks. Once suited up, bathers are taken down to the sprawling bath level and given an explanation of each pool. First up is the popular Flotarium. Kept at 97 degrees Fahrenheit, the water is infused with so much salt that bathers rise to the surface. A nearby platter of sea salt allows them to perform a mini DIY body scrub.
RELATED: Share Your Spa with the World! Submit Your Spa Photos
Next is the "Propeller"—a 97 F whirlpool boasting water jets way more intense than the average hot tub. The rest of the circuit is an adventure in temperature. A Hot Pool is kept at 102 F, which feels lovely for short, sweaty stretches. (Signs throughout advise people to spend no more than 15 minutes in any one pool.) An invigorating 60 F Cold Pool delivers the tingles. And for anyone looking to have a Polar Bear Club moment in a luxury spa setting, there's a 50 F Ice Pool. Even after the Cold Pool, this comes as shock. Clearly, guests aren't supposed to linger—it's a one person plunge with a metal ladder for easy egress. Finally, occupying the whole back wall is a body temperature Warm Pool offering myriad nooks and partially hidden crevices perfect for an escape even within the escape.
Guests are encouraged to repeat the cycle at their leisure. Between baths, they can steam up in a eucalyptus-infused sauna or take a break on heated marble benches while sipping lemon water or tea. Sessions are limited to around 10 people, but given that most guests are also getting treatments, it's rare to see more than a handful of fellow bathers at any one time. Indeed, as part of their visit, many customers book massages, described by Gwyneth Paltrow's lifestyle site Goop as "some of Manhattan's best." Rubdowns lasting 30, 45 or 60 minutes are available, and run from $133 (for a 30-minute, traditional massage and bath entry on weekdays) to $351 (for a 60-minute, four-handed massage and bath entry on weekends).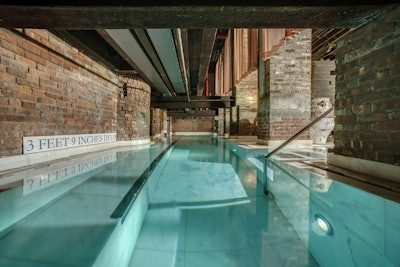 Upping the extravagance factor is the staff who, clad all in black, act as customer service ninjas, stealthily springing forward with an extra towel or beverage, then receding back into the shadows.
There's a silence policy on the bath floor, which is strictly enforced whenever a group session is booked. "Our experience is based on tranquility and relaxation, and clients who don't follow those serenity guidelines may be asked to leave," explains Barnett. "Our staff is always especially vigilant to make sure that groups stick to the policy."
RELATED: Spa Showcase Argentta Spa at the Watergate Hotel in Washington, D.C
Many customers visit regularly as part of a health or wellness routine, participating in one of Aire's thrice-weekly, hour-long yoga classes ($100, including bath entry). Given the sensual nature of a session, it's not surprising that many couples also come to Aire seeking an exotic date. The facility offers multiple couples' packages, such as Indulge Together (150 min./$441), which provides a massage, foot exfoliation and serving of fruit juices. "We also get a lot of people coming to share the experience as a group—mothers and daughters, and bridal parties," says Barnett.
For big, boisterous gangs, Aire throws a party to rival those over-the top celebrations of the ancients. Private rentals for groups of up to 25 are available in two-hour blocks ($3,100 on weekdays, $3,900 on weekends), with massages or other treatments available for an additional fee. There have been custom corporate events for everyone from Yves Saint Laurent to HBO, as well as Fashion Week shows where the pools serve as one-of-a kind runways. A party for a new cellphone app or a pop singer doing morning yoga by the Flotarium may not have been the rituals the ancients had in mind, but it's all bath-business-as-usual in the hip 'hood of Tribeca.
–by Shari Goldhagen