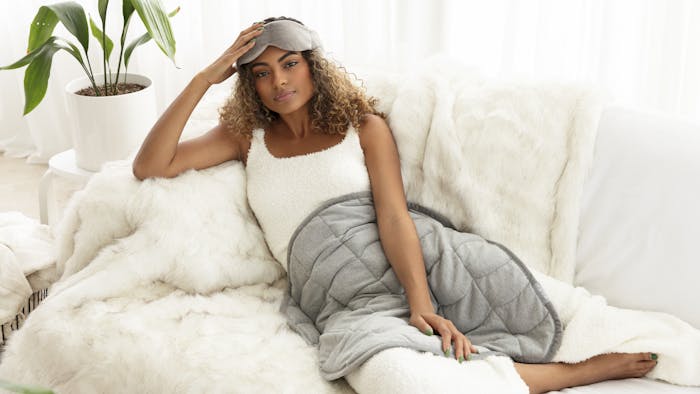 Nodpod has a weighted body blanket and a weighted eye mask blanket to help enhance a more restful sleep. 
Nodpod Eye Mask. This eye mask is a weighted blanket for your eyes. It is designed with hallow ends to provide head resting comfort in any position, and it also dual sided so that one side has a cooling jersey cotton and th eother has a warm microfiber. This eye blanket can be put in the freezer and it will remain soft and flexible when pulled back out and used; it also has microbead pods and scallop edges to provide total light blocking benefits. It is available in 12 colors. 
Nodpod Body Blanket. This weighted pod provides all the benefits of a weighted blanket in a pod. It is uniquely developed with a single layer design to provide all the weight and comfort of a weighted blanket without the heat. This blanket is created for dual comfort with one side being made of cooling jersey cotton and the other of warm microfleece. The entire bod can be placed in the freezer to provide cooling relief, and it can be easily machine washed and dried. It is available in 10 colors.