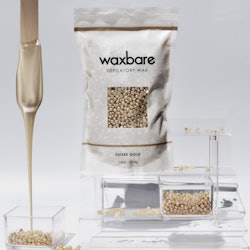 Waxbare's Suisse Gold Hard Wax Beads are available in one-pound, 10-pound and 100-pound bags. Similar to the brand's signature Coral wax, Suisse Gold is crafted with a premium blend of synthetic and natural resins, which create remarkable flexibility and hair-grasping capabilities. Suitable for all skin and hair types, this illuminating gold wax is a necessity for the treatment room and is sure to make a lasting impression.
How to Use:
Heat the desired amount of beads to approximately 130 degrees Fahrenheit using a wax heater.
Always mix thoroughly and test the temperature before application.
Spread a thin layer of wax onto the area to be treated in the hair growth direction.
Wait until the wax has cooled.
Pull off the wax with a firm action against the direction of hair growth.
Ingredients:
Glyceryl Rosinate
Colophonium
Cera Alba (white beeswax)
Triethylene Glycol Rosinate
Ethylene/Va Copolymer
Paraffin
Mica
Cocos Nucifera Oil
CI 77891, CI160725