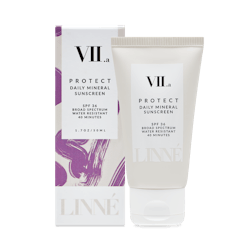 LINNÉ Botanicals PROTECT is not your average sunblock, but rather an advanced barrier cream with UV, blue light and pollution defense. The SPF can be used daily for nourished, resilient and luminous skin.
Over 300 customers and estheticians provided critical feedback during that development phase to create a: nourishing, hydrating, light-weight, non-comedogenic, non-sensitizing, soothing, protective, reparative, rejuvenating, sweat and water resistant, color-correcting, transparent and pleasantly-scented cream.
In short, PROTECT is the ideal day cream meets sun care. It layers perfectly over serums and oils, and provides a primer for makeup application. 
Key Ingredients
Aloe Vera Juice: The ingredient has 18 amino acids that work in association with other compounds of the human body to deliver numerous health benefits. The pure inner gel extracted from the aloe leaf is one of the best natural remedies for skin abrasions, wounds, rashes, acne, and psoriasis. It has hydrating and rejuvenating properties that help to diminish the signs of aging.
Zinc Oxide: Non-nano, zinc has been stabilized in a plant-based emulsion to provide broad-spectrum UV protection that leaves no white cast. Beyond providing sun protection, zinc is considered by dermatologists to be a reliable ingredient for acne treatment. Studies have found the mineral may decrease papules and cysts when when applied topically . Our zinc source is approved by COSMOS, Ecocert, and the Natural Product Association
Ectoin: This stress-protection molecule protects microorganisms living under extreme conditions. Ectoin is able to protect cell membranes from chemical and physical damage, reducing oxidative stress and cell inflammation.
Chamomile Flower Oil: Soothing and calming to minor wounds, fungal infections, insect bites, rosacea and generally sensitive skin. Chamomile is effective in treating acne, eczema and other skin conditions.
Niacinamide: This ingredient helps to build keratin within the skin, protect the lipid barrier, reduce inflammation, regulate oil production, protect against oxidative stress, minimize the appearance of wrinkles, and treat hyper-pigmentation and acne.
Hyaluronic Acid: This ingredient improves elasticity, and hydration while minimizing the appearance of wrinkles. Our low molecular weight HA, is able to penetrate the skin to nourish and hydrate deeply.
Thyme Flower and Leaf Extract: This ingredient improves structural aging due to lipoatrophy or loss of adipose tissue. Thyme extract stimulates the formation of adiponectin – the key biological marker responsible for regulating adipogenesis – promoting remarkable rejuvenation and preserving cellular memory.