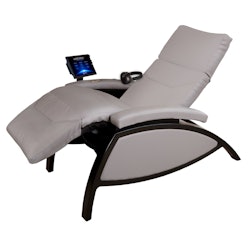 The LEC Mind-Sync Harmonic Wellness Lounger is an unattended, zero-gravity treatment lounger designed to reduce stress and anxiety levels and enhance restorative sleep states. The lounger combines vibroacoustic sound therapy with zero-gravity positioning for accelerated restoration for guests.
The Mind-Sync Harmonic Wellness Lounger has six programs in three treatment categories: Vibrational Wellness, Sleep Therapy, and Restorative Meditation. Treatments range from 20 to 60 minutes. It utilizes a 10' Touch Screen control system to eliminate the need for attendants.
The wellness chair features four 80-watt per channel transducers for a harmonic vibroacoustic audio experience while the electronic back and foot adjuments allow for personalized zero gravity positionings that promote relaxation, recovery and improved sleep ability. 
The LEC Mind-Sync Harmonic Wellness Lounger is built-to-order and hand upholstered with double-needle stitched cushions that are filled with Cloudfill polygel. The wellness chair also includes a USB charging port and soft start/stop UL-listed motors.