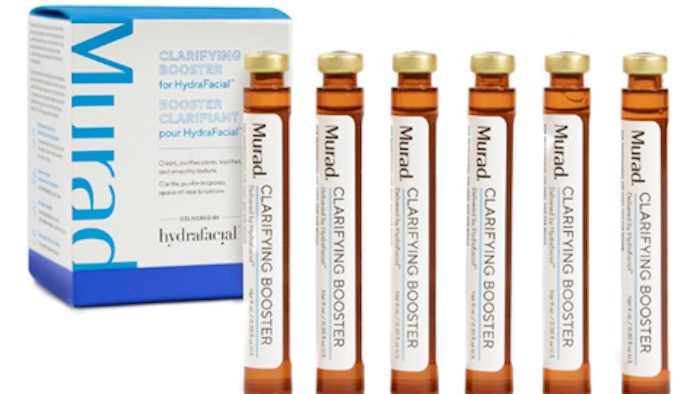 The Beauty Health Company (NASDAQ:SKIN), expanded its partnership with Murad to introduce the Clarifying Booster for HydraFacial. This new booster is formulated to address breakouts and problematic skin, as part of a customized HydraFacial experience. 
Murad is known for its clinical skin care formulas, while the HydraFacial device uses a patented delivery system with vortex-fusion technology that exfoliates, extracts and hydrates skin. This partnership combines both brands so that skin therapists can clear up guests' problem skin. 
The clarifying booster's formula features ingredients that promote cell turnover, such as salicylic and glycolic acids. The glycolic breaks the bonds between the outer layer of keratinocytes, including dead skin cells, and the next skin layer. Glycolic acid also provides a gentle peeling effect that smooths skin, yet still maintains the moisture barrier. This product was designed to be used with daily topicals and as a part of a monthly HydraFacial treatment plan. 
"Clarifying skin care has been one of the staples of Murad since our inception and it's always been our main priority for consumers to feel comfortable and confident in their skin. With this new Clarifying Booster, we're doing just that," said Dr. Howard Murad, founder of Murad. "By weaving our patented RepleniCell technology with cell turnover ingredients such as salicylic acid and glycolic acid, we're able to encourage and reveal healthier-looking skin without compromising the hydration levels."
"This new offering opens the doors to any consumer struggling with breakouts to benefit from a scientifically proven formulation delivered through HydraFacial's patented delivery system for top notch results," said BeautyHealth president and CEO Andrew Stanleick.