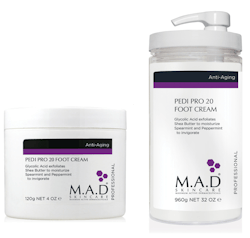 Popular professional brand M.A.D Skincare has launched two foot care products for pro treatments: Pedi Pro 20 Foot Cream and Enzymaxx Foot Mask.
The Pedi Pro 20 Foot Cream exfoliates, deeply moisturizes and rehydrates thick, cracked, callused and tired feet. It creates a barrier on the skin to reduce skin dryness by decreasing moisture loss, leaving feet feeling nourished, smooth, revitalized and baby soft. Actives include exfoliating glycolic acid, naturally hydrating shea butter, and spearmint and peppermint for their antibacterial and anti-inflammatory properties. 
The Enzymaxx Foot Mask removes dead skin, exfoliates buildup and deeply rehydrates thick, callused feet for more nourished and baby soft feet. The potent formula features actives like:
Papain enzymes that remove dead surface skin, exfoliate hardened calluses, reduce itchiness and increase cell turnover.
Bromelain, derived from pineapple, which removes damaged tissue and sloughs away dead skin cells.
Alpha-hydroxy acids that hydrate, exfoliate and stimulate the skin's shedding process, smoothing rough areas while delivering moisture. 
Spearmint and peppermint, which have  antiseptic, antibacterial and anti-inflammatory benefits.