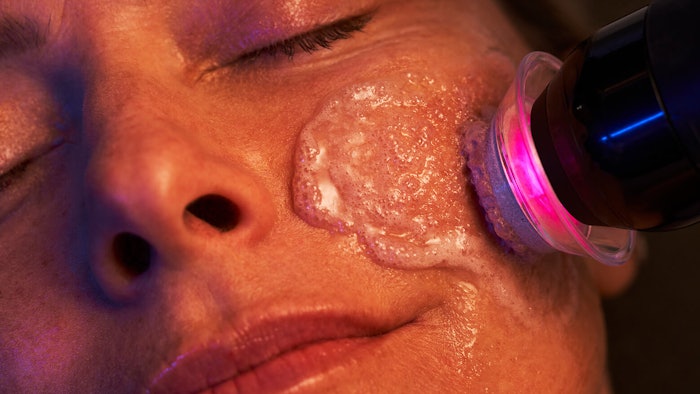 Photo courtesy of Glo2Facial
Glo2Facial debuted as a new rejuvenating facial service to enter the professional market, according to an article by Glossy. The service provides exfoliation with oxygenation, trademarked as "Oxfoliation." 
The treatment aims to plump and smooth skin texture, while also providing a glow that lasts post-treatment. Glo2Facial is associated with Geneo, a subsidiary of surgical and medical laser company, Lumenis. The article stated that Clint Carnell was appointed as Geneo's Chief Executive and Operating Officer, and he plans to build the brand around the reintroduction of Glo2Facial on the market. 
"Spinning out gave us a disciplined focus on providers, and that's a differentiator that impacts how consumers feel about the treatment, achieve great results, and build quality brands in the category," said Carnell. "You'll see us double down on supporting [providers] because we think they are the key to building our [brand] together."
Related: Top 10 Facial Devices, Ranked
Glo2Facial is being marketed as an add-on to additional treatments like Clear + Brilliant lasers or Hydrafacial, rather than a replacement to these services, according to the article. Oxfoliation technology aims to calm the skin, as it utilizes the Bohr Effect to conduct exfoliation, rather than chemical or physical exfoliation. 
The facial service also has two additional steps after Oxfolation, which is a light ultrasound experience with microcurrent, as well as a lymphatic massage.