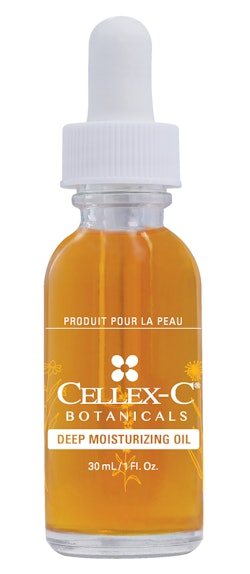 Cellex-C International announced the launch of the Deep Moisturizing Oil, the first product in the Cellex-C Botanicals line. The product is sulfate-free, and filled with plant-derived antioxidants, moisturizers and nutrients. Just a few drops a day are required to nourish, revitalize and de-stress the skin. 
The company's research in plant chemistry and plant materials as natural skin protectants has sparked the creation of the Botanicals line, and its premier product, the Deep Moisturizing Oil. The Botanical products were developed to help skin retain its youthful resilience and appearance by utilizing the natural powers of plants. The collection features natural bioactives that help protect against environmental and lifestyle stressors to promote healthy skin. 
The Deep Moisturizing Oil is formulated with a combination of botanical extracts and lipids, which nourish, de-stress and detoxify the skin, while providing the ultimate deep moisturization. Easily absorbable, and rich in highly bioavailable ingredients, the oil helps the epidermis retain its natural moisture levels and lipid balance. 
Related: Super Natural Skin Care
Key Ingredients
Sea Buckthorn Oil: Rich in carotenoids, antioxidant vitamins and nourishing omega fatty acids, sea buckthorn is traditionally known to help skin repair itself and boost collagen production.
Hempseed Oil: Rich in omega fatty acids and proteins, hempseed oil moisturizes, protects and soothes the skin. The ingredient helps to balance out the skin's own oil production, helping reduce the appearance of fine lines and wrinkles.
Rosemary Oil: Rosemary essential oil has antioxidant and anti-stress properties that promote relaxation and an overall feeling of well-being. It provides stimulation and oxygenation which helps the skin to de-stress and detoxify.