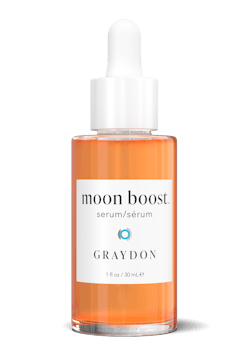 The Moon Boost Serum is infused with seven vitamins to help nourish, support and bring out the best in the skin. This multifunctional serum can also act as a hydrating face oil. 
Key Ingredients in Moon Boost Serum
Vitamin A. combats sings of aging and firms skin
Vitamin B5. soothes sensitive skin while locking in moisture.
Vitamin C. improves the appearance of aged and fragile skin while evening out skin tone.
Vitamin D. rejuvenates and strengthens skin barrier with shiitake mushroom.
Vitamin E. protects skin from environmental stressors and damage.
Vitamin F. supports skin barrier function.
Vitamin K. diminishes the appearance of dark circles. 
Super Berry. shields your skin from blue light exposure with blueberry necta seed oil.