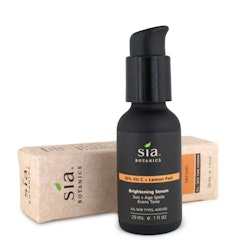 The Vita C Collection includes a wash, lotion and serum that are all formulated with vitamin C. These products work together as a system and aim to help even skin tone and improve skin texture. 
Included in this Collection
C + Lemon Peel Wash: This is step 1 in this three step system, and the wash is a blend of natural ingredients to keep the skin clean, balanced and prepped for optimal absorption of the C+ Lemon Peel Serum. 
C + Lemon Peel Serum: Formulated with 20% vitamin C and 4% Lemon Peel Bio Ferment, this serum provides dramatic skin tone evening and texture resurfacing to the skin. 
C + Lemon Peel Lotion: This lightweight lotion can be used daily to moisturize and protect the skin from environmental aggressors. This lotion is designed to increase the effects of the C+ Lemon Peel Serum, or it can be used alone for general brightening.