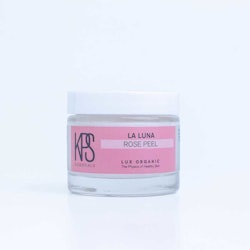 KPS Essentials' La Luna Rose Peel is a gentle alternative to harsher peels and it leaves skin feeling radiant and refreshed. The product is a glycolic peel with pearl powder and rose water that provides all the benefits of a professional peel without any pain. 
Key Ingredients 
Glycolic acid is an exfoliant that helps to shed dead skin cells and reveal a new, brighter layer underneath. 
Rose distillate soothes and cleanses the skin.
Pearl powder contains over 30 trace minerals to promote skin health, high levels of calcium for skin regulation and moisture, and antioxidant boosters to fight against disease.
Konjac powder is rich in protein, fatty acids, and vitamin A, B, C, D, & E to moisturize skin.
616-228-1055, www.kpsessentials.com