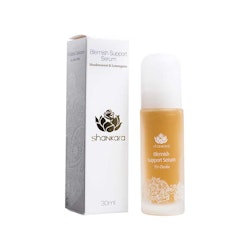 Shankara's Blemish Support Serum has a purifying and soothing formula that leaves the skin looking healthier, brighter, clearer and free from blemishes. The product soothes breakouts and provides cleansing benefits. 
Key Ingredients
Lavender is rich in antioxidants and has calming and cleansing properties.
Meadowsweet is naturally astringent and promotes balance in oily skin.
Lemongrass is soothing, purifying and helps tone the skin.
443-410-0791, www.shankara.com