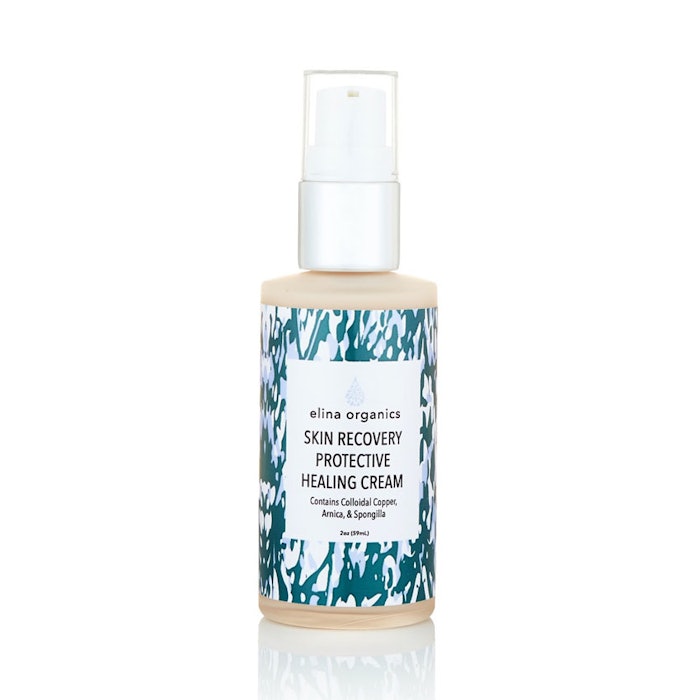 Elina Organics' Skin Recovery Protective Healing Cream contains Arnica, colloidal copper and freshwater sponge in its formula made specifically for irritated, inflamed, stressed and acne-prone complexions. Extracts of Arnica and Spongilla have been used for centuries to heal bruised and damaged skin. Colloidal copper, in additional to its antiseptic properties, also helps to rebuild collagen and elastin, as well as speed up the skin healing process. Skin Recovery Protective Healing Cream also helps calm and restore the skin after micro-needling, acid peels and injectable treatments. 
This healing cream is free of parabens, sulfates, toxic preservatives, propylene glycol, sodium lauryl sulfates, harmful colorants and fragrances, mineral oils, petroleum and other harsh toxic cosmetic chemicals. It is also cruelty-free.
Key Ingredients
Colloidal copper treats wounds, infections and burns. It stimulates the formation of collagen and elastin and helps to smooth out fine lines and wrinkles, while tightening and thickening the skin. It's a potent antioxidant for the skin. It helps retain moisture while giving skin a nice healthy glow.
Arnica extract is known for its healing properties. It can be applied to the skin in order to heal bruises more quickly and soothe inflammation. Arnica has been known to work wonders with acne, even in very difficult, cystic (hormonal) cases.
Spongilla extract (Freshwater sponge) is used to reduce puffiness, irritation and discolorations. It will help to calm and heal the skin.
269.384.2170, ­elinaorganicsskincare.​com