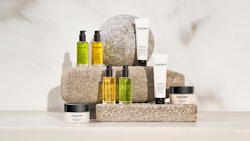 The Diamond Well-Living Collection includes four different body oils that provide different therapeutic benefits to the body, as well as a body scrub, body cream, warming gel and cryo-gel. This collection was designed to provide an experience of textures, scents and sensations to the body. 
The dry oils in this collection each provide a different purpose to the skin. There is the Dry Oil - Detox that uses seaweed and chia to provide the body with a purifying experience. The Dry Oil - De-Stress that uses lavender and grapeseeds to soothe the body. The Dry Oil - Fitness that uses mint and eucalyptus which acts as a comforting dry body oil. Finally, the Dry Oil - Energizing combines citrus fruits, cypress, sage and rosemary to revitalize the skin. 
The body scrub polishes and renews the skin. The Body Cream nourishes the skin with a combination of tamanu oil, rice water and aloe vera. This cream provides comfort and hydration to the skin while soothing. 
The Cryo-Gel can be used on tired areas to provide an instant cold relief with menthol and eucalyptus. This gel can be used to provide wellness to the body and helps clear the mind. The Warming Gel in comparison provides instant warming and comfort to stressed areas. This gel stimulates the skin to invigorate warmth and wellness.