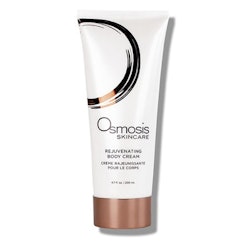 Osmosis Beauty's Rejuvenating Body Cream is a moisturizing, healing, and protective body cream that improves tone and elasticity. Key ingredients like chlorella vulgaris extract and niacinamide protect collagen in the skin, while emollients and humectants hydrate and moisturize for a supple, more radiant glow. Lightly scented with orange, ylang ylang and essential oils, this body cream is vegan, non-GMO, gluten free and paraben free.
Key Ingredients
Chlorella vulgaris extract protects and stimulates collagen and elastin, and provides antioxidant support.
Niacinamide has antioxidant and anti-inflammatory properties, improves epidermal barrier function and inhibits skin pigmentation.
Amino acid blend provides skin with the ingredients needed to help maintain skin's resilience, defense systems and moisture.
Sodium hyaluronate provides hydrating benefits, allowing skin to retain more moisture, providing fullness that reduces appearance of fine lines and wrinkles.
877-777-2305, www.osmosisbeauty.com