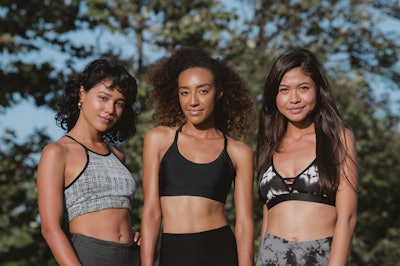 We wanted to know all there is to know about lipids. Spa pros give us the lowdown, including how to preserve this protective component of the complexion.
What role do lipids play in skin health?
Bre Morris, owner, Alchemy Face Bar in Denver: Lipids are the skin's natural fats. They aid in the repair process, protect from environmental stress and prevent water loss.
Kimberly Nichols, MD, FAAD, board-certified dermatologist, NicholsMD of Greenwich in Connecticut: The skin has three main layers, including the outermost stratum corneum, which consists of dead skin cells—called corneocytes—and lipids. If you think of the stratum corneum as a brick wall, the skin cells are the bricks and the lipids are the cement that keeps them together. This "cement" is comprised of three primary lipid classes: ceramides, cholesterol and fatty acids. When these compounds are present in the proper amounts and ratio, they help protect the skin. If the barrier is compromised, this can lead to transepidermal water loss, which can cause skin shedding and make the complexion rough and dry.
Kira Clark, LMT, licensed esthetician and owner, Face & Body Boutique in Boulder, Colorado: Lipids are key in strengthening the skin's protective barrier by helping prevent the loss of water and electrolytes. They also keep bad bacteria at bay as part of the skin's innate immune system.
What are the most common causes of a depleted lipid barrier, and what helps to restore it?
Nichols: Extreme environmental conditions (cold winter air, wind, low humidity), overuse of harsh products and exfoliants, and factors related to aging, lifestyle and diet can all be culprits. Sunscreen must be worn daily, and topical skincare ingredients should include barrier-repairing ceramides and fatty acids; occlusives like natural oils, squalene and petrolatum; and humectants like hyaluronic acid (HA). I recommend SkinCeuticals Triple Lipid Restore 2:4:2, as it's a cream packed with lipids in the perfect ratio to restore hydration to aging, dry or depleted skin.
"Foods containing toxins, allergens and hormones can overburden the immune system and cause inflammation in the body— including the skin—which will deplete the lipid barrier."
Clark: Foods containing toxins, allergens and hormones can overburden the immune system and cause inflammation in the body—including the skin—which will deplete the lipid barrier. Excessive exfoliation can be an often-overlooked problem, along with environmental damage and skincare products that contain toxic ingredients. Two of my favorite products for replenishing and protecting the lipid barrier are Guinot Age Nutritive moisturizer and Skin Therapy Emu Dermyl.
Morris: Causes include aging, harsh cleansers, excessive physical or chemical exfoliation, hot water, dry climates, smoking, alcohol consumption, sun exposure and not getting enough essential fatty acids in the diet. Products like Éminence Rosehip Triple C+E Firming Oil, which contains rosehip oil, seabuckthorn oil and milk thistle, can help restore and maintain a healthy lipid barrier.
Describe your top service for replenishing lipids in the skin.
Clark: Everything we do helps support the lipid barrier, but our game-changer is the Skin Renewal Facial (75 min./$128). We begin with a Hydrabeauty treatment for a deep cleanse, followed by dermaplaning/microdermabrasion to exfoliate and leave the skin baby- smooth, and then a relaxing, rejuvenating face and neck massage. We finish with Guinot's Hydradermie treatment, featuring nutrient-rich gels and galvanic current to balance the epidermal layers and help the fortifying, barrier-strengthening ingredients penetrate more deeply. Afterward, people tell us they get accused of having had Botox and fillers!
Nichols: We offer SkinFirm (60 min./$550), a microneedling treatment which allows for enhanced delivery and permeability of professional lipid-restoring products and helps to heal the skin, build collagen and improve hydration. Our patients love how glowing and dewy their complexion is a few days after their treatment, and many also report decreased acne scars and wrinkles after multiple sessions (we recommend three to six for optimum results).
Morris: Our Crystal Elixir facial (45 min./$80) includes a plant-based peel that gently exfoliates dead skin cells while promoting elasticity, along with a crystal massage to help with lymphatic drainage, and the application of organic masks and serums to heal and replenish the complexion. Clients call to rebook this service once or twice a month because of the noticeable change in their skin's appearance—they always say that it looks and feels so much smoother, and that the glow lasts for days.
Some products to try:
DermAware Wrinkle Recovery Mosturizer, dermaware.com
Eminence Rosehip Triple C+E Firming Oil, eminenceorganics.com
G.M. Collin Daily Ceramide Comfort, gmcollin.com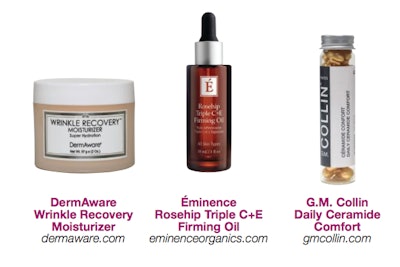 [[Model photo credit: Elle Hughes]]