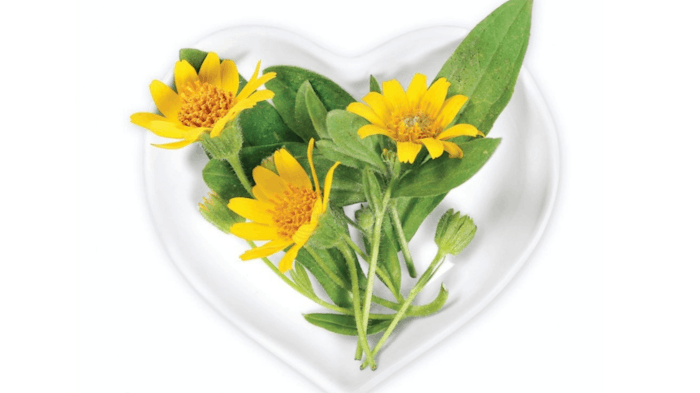 The arnica plant is a perennial herb in the sunflower family that has been used for centuries to treat inflammation and pain, and these properties are why it's making its way into skincare products. Also known as mountain daisy, mountain tobacco, leopard's bane and wolf's bane, it mainly grows in Siberia, central Europe and temperate parts of North America. Its first documented medicinal use dates back to the 1500s, and folklore suggests that humans realized it could be useful for healing bruises and injuries when they observed mountain goats and sheep seeking out the plant after stumbling and falling on hillsides. A North American indigenous tribe is also said to have used a tea made from the plant's roots to ease back pain, while the German writer Goethe claimed that arnica saved his life by bringing down a persistent high fever. As a homeopathic remedy, arnica—particularly the species
Arnica montana
—can be found in topical gels, creams and oils, as well as in oral supplements and tinctures.
WHY ARNICA IS A SKINCARE ALL-STAR
Arnica's anti-inflammatory, analgesic, antibacterial and antiseptic properties make it well suited for use in all sorts of spa services, from sports massage to facials. "Arnica has many benefits that help soothe and reduce inflammation as well as acne," notes Heather Glenn, esthetician team lead at Tallgrass Day Spa in Evergreen, Colorado. Its ability to boost immunity is believed to help decrease healing time in bruises, aches and pains, and it can even be tried in cases where a bruise never fully healed.
Many medspas also advise patients to apply arnica topically and/or ingest it in tablet form prior to and after getting injectables and other cosmetic procedures to help minimize swelling and discoloration. Some acupuncturists do the same, especially prior to facial protocols. "It can also be used for rashes, scars and stretch marks, and some even use it to reduce the appearance of dark circles—in which case, we recommend a gel version combined with coconut or almond oil," says Dali Singh, owner of Blue Marigold Massage + Wellness in Portland, Oregon.
IN THE TREATMENT ROOM
At the Harbour Club Day Spa and Salon in Wilmington, North Carolina, the Yon-Ka Sensitive Treatment (60 min./$125), which includes the brand's arnica-infused Sensitive Masque, is in high demand because of its ability to instantly reduce redness, says licensed esthetician Grace Louise Messick. "We recommend a weekly treatment for the first month, and then once a month thereafter to maintain the healthiest skin possible," she says, noting that guests love how the service "puts the fire out" and leaves them with a refreshed and vibrant complexion. It's for these same reasons that the spa also applies a thin, leave-on layer of the masque following facial waxing services.
For clients in search of relief from sore muscles, Tallgrass Day Spa offers the Colorado Recovery Massage (60 min./$150). The service involves deep tissue work with CBD and/or arnica gel, depending upon personal preference. "We apply the arnica to target areas where the guest is experiencing muscle soreness, bruising, pain or inflammation," says massage team lead Christy Clark. The spa also performs customized facials (50-80 min./$110-$150), which typically include products containing arnica when the client has sensitive skin or rosacea, says Glenn, adding that she especially likes to use the Éminence Calm Skin Arnica Masque and Booster-Serum in these services.
An Arnica + CBD add-on treatment (5 min./$20) is a big hit with massage clients at Blue Marigold. "We apply arnica-based oil all over the body, and an all-organic, hemp-derived CBD salve on areas like the back of the neck, around the knees and other throbbing areas," says Singh. "Combining these two powerful herb allies helps our clients achieve the ultimate in relaxation and pain relief." During the service, therapists typically reach for brands like Innate Organic Body. "Their balms contain arnica and CBD with additional anti-inflammatory ingredients like turmeric and ginger," explains Singh. "For body oils, we use NOW Arnica Warming Relief Massage Oil, as well as Weleda Muscle Massage Oil in situations where more potency is required." Clients are so pleased with the results of these powerful remedies that they continue to request the add-on treatment. "Others, having experienced the benefits, purchase arnica products for at-home use, as well," Singh adds.
FUN FACTS
Arnica montana is a protected species in Belgium, France, Germany, Italy, Poland and some parts of Switzerland, and its declining occurrence in Europe may be related to soil quality. For this reason, the closely related Arnica chamissonis is also used.
A British Journal of Dermatology study (August 2010) found that topical 20% arnica ointment reduced bruising more effectively than a placebo.
The dried flower head is the most widely used part of the plant in commercially available dosage forms.
Unless diluted, it is toxic when taken by mouth; the usual homeopathic preparations are in strengths of 1:10 and 1:100.
Arnica should never be applied to broken skin, as too much could be absorbed by the body.
If someone is allergic to sunflowers, it's likely that they'll also be allergic to arnica.
OTHER ARNICA PRODUCTS TO TRY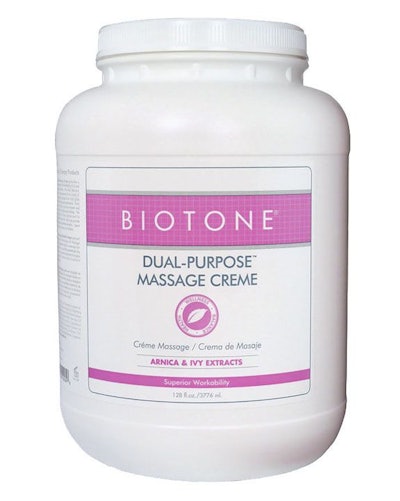 Biotone Dual-Purpose Massage Cream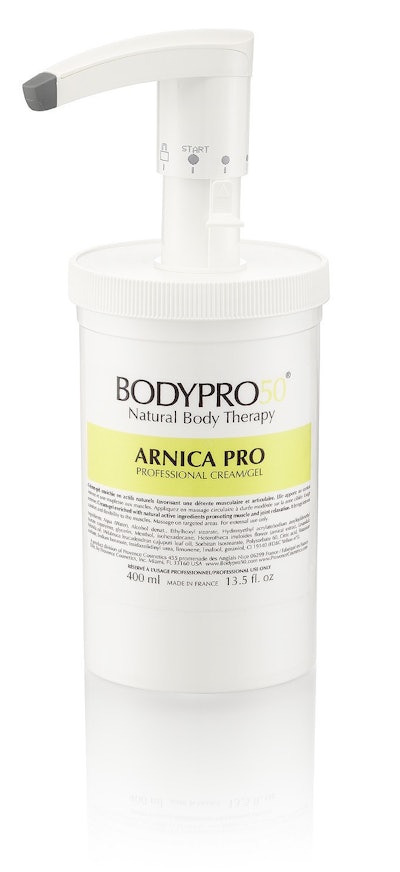 BodyPro50 Arnica Pro Professional Creamgel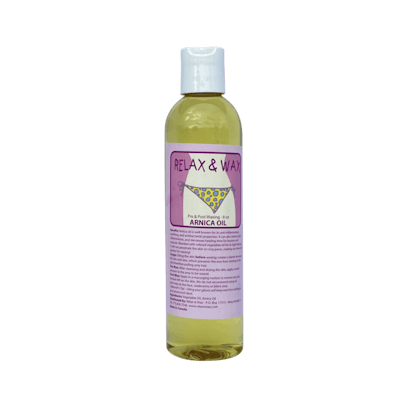 Relax & Wax Pre & Post Waxing Arnica Oil
This story first appeared in the May 2020 issue of DAYSPA Magazine. To receive the magazine, subscribe here.