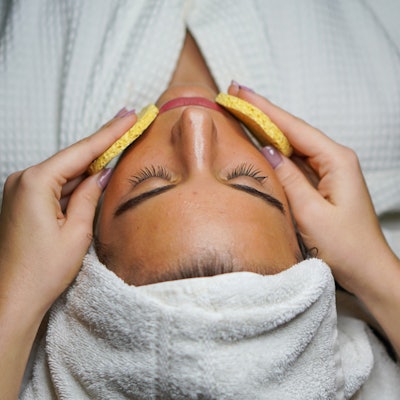 What is your top facial treatment featuring probiotics?
Keeley Lore, owner and master esthetician, Naturally Radiant in Fredericksburg, Virginia: During the Skin Restoring Probiotic Facial (90 min./$130), we cleanse, steam and vacuum skin using the water peel machine with Elina Organics Probiotic Peel infusion. This treatment also includes Elina Organics Probiotic Mask, Lipo-Peptide Mask and Probiotic Polishing Mask.
Rianna Loving, CEO and founder, Organic to Green, and owner of Organic to Green Spa and Bungalow in Venice and Santa Monica, California: I've been creating customized Lactobacillus masks for use in our facial treatments for several years. Sometimes we also make a lighter version of a probiotic serum, which is applied before the mask step.
Rebekah Voglewede, owner/esthetician, VoG Skincare in New Braunfels, Texas: We highlight the use of probiotics in our Firm Facial (60 min./$120). This advanced treatment features yogurt for a boost of probiotics, and incorporates hot and cold therapy to treat aging, dull or acne-prone skin types. While spicy ingredients produce the feeling of warmth, others— including peppermint, menthol, cucumber and tea tree—produce an icy sensation, leaving the skin plump and revitalized.
Bozena Linowski, owner and master esthetician, European Day Spa in Bayonne, New Jersey, and Spa Rejuv in Bernardsville, New Jersey: For targeting acne-prone and oily skin, my top treatment is the Oxygenating Facial (60-75 min./starting at $129). This offering includes a double cleanse, G.M. Collin Oxygenating Exfoliant containing glycolic and lactic acid, a neutralizer, extractions if needed, and the application of G.M. Collin Oxygenating Serum and Puracne Oxygen Mask, which contains probiotic derivatives. While the mask is processing, I perform a hand and shoulder massage. The facial concludes with the application of G.M. Collin Normalizing Cream.
What benefits do you notice after performing this service?
Voglewede: The skin looks healthier and calmed from the acne-caused inflammation, which can also lead to premature aging. Probiotic treatments produce immediate results without stripping the skin of its natural barrier, allowing the client to continue topical probiotic use throughout the year.
Loving: We notice the complexion is smoother and softer—and, most importantly, it's balanced and protected from harmful bacteria.
Lore: Probiotic-based products help nourish, sanitize and lighten congested skin, giving it a more even-toned appearance. The complexion looks hydrated and less angry and inflamed, and it's more uniform in color.
Linowski: Immediately after the treatment, skin is visibly clearer and brighter with less inflammation.
How do you advise clients to incorporate probiotics into an at- home regimen?
Lore: Elina Organics Probiotic Peel can be used at home and activated by using the brand's Rehydrating Mist and Sanitizing Mist throughout the day. The regimen should include morning and evening use of a cleanser and toner appropriate for skin type, along with a scrub, serum,
moisturizer and eye cream. Safe and nourishing day makeup should also include SPF and contain probiotics.
Voglewede: The complexion's needs change on a daily basis, and probiotic-powered skin care serves multiple purposes, so it fits well into an at-home regimen. Who doesn't want to treat inflammation and aging skin at the same time? We recommend daily use of the Éminence Clear Skin Collection, which includes a probiotic-focused cleanser, masque and moisturizer.
Loving: We advise guests to make their own masks with fresh yogurt or other edible products that contain Lactobacillus at least once a week. We also suggest adding our dry, powder masks to a yogurt base—it's like a green smoothie for the face!
Linowski: In most cases, we recommend using G.M. Collin Puractive + Cleansing Gel and Deep Cleansing Solution, Puractive + Treating Mist, Essential Oil Complex and Puractive + Cream. Regular use of this regimen greatly reduces inflammation and minimizes the number of breakouts. Additionally, when ingested, probiotics promote the growth of healthy bacteria in our bodies and that can benefit overall well-being, normalize gut bacteria, improve the microbiome of the digestive tract, and subsequently reduce inflammation throughout the body, including skin. Therefore, I suggest clients also introduce probiotics into their daily diet—especially fermented foods such as kimchi, sauerkraut, kombucha, pickles and miso—as well as quality dark chocolate.


–by Alexa Joy Sherman
[Images: Pexels; courtesy of manufacturers]