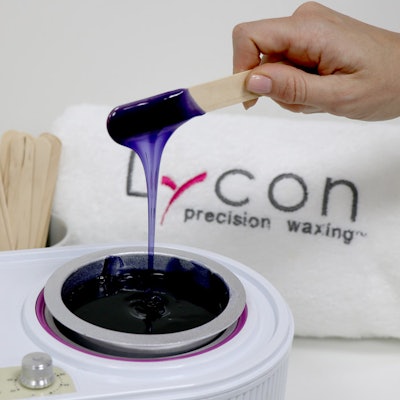 LYCON waxes are recognized around the world as the top choice in hair removal products. The brand's revolutionary hot waxes can be reapplied multiple times without discomfort, and their strip waxes remove hair while leaving no sticky residue behind. All LYCON waxes are designed to minimize redness with the finest selection of soothing ingredients and target stubborn hair as short as 1 mm—eliminating the need to tweeze!
Why do spas report that their sales are growing 20 percent in the first month of switching to LYCON? The superior grip, pliability, low working temperature and "virtually painless" experience are all reasons customers ask for more areas to be waxed, resulting in greater profits. Plus, clients leave feeling so satisfied and confident, they tell their network about their experience and spread the LYCON love. Consequently, new customers want to experience LYCON themselves, and the client base continues to grow. Here are several more reasons clients love LYCON so much:
1) Services can be customized. LYCON recognizes one type of wax isn't suitable for every part of the body. So, the brand offers hot, strip and Lycojet waxes. Hot waxes are perfect for all sensitive-area services, such as underarm, bikini, Brazilian and facial waxes. LYCON also offers a wide range of waxes with different scents, soothing ingredients and colors. The brand's Manifico Hot wax is perfect for all male hair removal services and has a masculine Sandalwood scent. Brazilian waxes are an extremely popular service and as a result, LYCON launched the first targeted Brazilian wax care collection called PINKINI—the full line includes pre/post products, hot wax and after-care retail offerings (Lightening Serum and PH-balanced Intimate Wash). Meanwhile, Lycojet hot waxes are known for their strength and can pull hair as short as 1 mm, and LYCON's strip waxes are applied super-thin, and are great for larger areas such as the back, legs, chest and arms.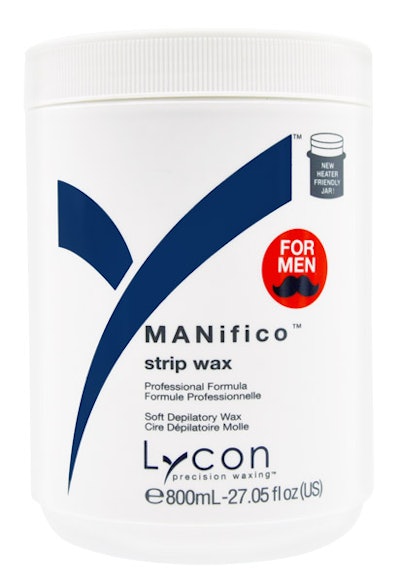 2) LYCON is the industry leader in waxing. LYCON is a premium wax brand from Australia that began on the stovetop of Lydia Jordane, an internationally acclaimed beauty therapist, 40 years ago. She started with just one wax that she formulated herself and has since revolutionized the waxing industry across the globe, building a waxing empire with spas in over 75 countries around the world using LYCON. The brand is considered the crème de la crème of waxes and is not tested on animals. It has become so popular that even celebrities request it by name. The Spice Girls even flew LYCON to a location in the U.S. while they were on tour!
3) The quality is unsurpassed. LYCON waxes are formulated with the finest natural sensuous aromatherapy oils to deliver flawless waxing results every time. The brand is known for its ability to pull super-short and fine hairs. It leaves the skin silky-soft, with no sticky residue. Clients are satisfied and hair-free, and return knowing what to expect.
4) LYCON is economical. Less wax is required when spas use LYCON, as there is no need to go over the same area multiple times (although the waxes are so gentle on the skin, you can if you would like to!). You can get as many as 18 Half Leg waxes out of one 800 ml jar of Lycotec White Strip Wax, making your cost per service just $1.48. Additionally, the overall service cost goes down as there is less wax buildup on the strips, so the strips can cover larger areas.
5) Lycojet gets stubborn hairs. The "no-tweeze, Superhero wax" Lycojet gives you the best of both worlds, since it's applied as thin as a strip wax and removed strip-less like hot wax. It's especially known for its ability to pull super-short and fine hairs and is perfect for sensitive-area services, such as facial and bikini/Brazilian waxes. It can even be used as a "touch-up" wax and eliminates the need to tweeze.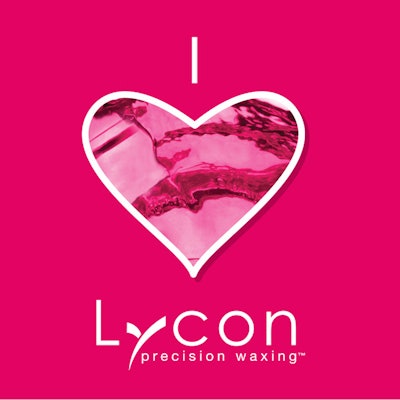 LYCON is the perfect addition to your waxing services. We promise you will love the products, and your clients will love you for using them. Spread the LYCON love.
Disclaimer:
The above paid-for content was produced by and posted on behalf of the Sponsor. Content provided is generated solely by the Sponsor or its affiliates, and it is the Sponsor's responsi­bility for the accuracy, completeness and validity of all information included. Wellspa 360 takes steps to ensure that you will not confuse sponsored content with content produced by Wellspa 360 and governed by its editorial policy.