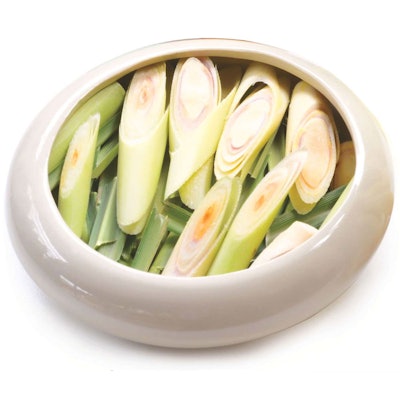 This plant's soothing properties and refreshing fragrance have made it a staple in spa treatment rooms.
With long, slender blades and a tangy aroma, lemongrass is a tropical plant that's famous for its scent and flavor. It's popular for aromatherapy, can be used as a natural deodorant and bug repellent, and is a favored ingredient for cleansing oily skin and shrinking pores.
Although the plant is native to Southeast Asia— frequently flavoring dishes ranging from curries to meats—lemongrass now grows in the U.S., South America, Africa, Australia and India. It's particularly revered in Brazil, India and Thailand, where it's used as a treatment for stomach problems, nervous disorders and as a mild sedative. Scientists have found that in addition to its antibacterial properties, lemongrass can serve as a treatment for everything from acne to tendinitis, sciatica, stomach pain and athlete's foot. The plant is also renowned for helping improve blood flow and easing the symptoms of circulatory disorders.
Why it's a skincare all-star:
Lemongrass is best known for its beautiful smell and gentle healing properties. Widely established as an anti-inflammatory, it's packed with antioxidants and vitamins, and can also serve as an astringent, which is why spa pros favor it for addressing unsightly pores. "I particularly love lemongrass for anyone suffering from breakouts, because its antibacterial properties can help limit microbial growth on the skin and ward off infections," says Brooke Gilliam, spa supervisor at Spa Montage Laguna Beach in Laguna Beach, California. "Lemongrass is so rich in antioxidants that it's also helpful for preventing winkles and other signs of aging."
RELATED: How CBD Fits Into Spa Services
Melaina Castruita, operations manager at Spa Anjali at the Westin Riverfront Resort & Spa in Avon, Colorado, adds: "Among its many benefits, lemongrass is a great antibacterial and antifungal ingredient," which makes it especially handy for nail salon services. "Including an ingredient like lemongrass in nail products serves as an additional reassurance that our clients are being protected," notes Castruita.
Spa owner Michelle Lamb loves lemongrass so much that she named her business after the plant. She opened Lemongrass Day Spa in Valdosta, Georgia, in 2006 and has always made sure that the business' namesake is part of the guest experience. In addition to using drops of lemongrass essential oil in diffusers throughout her spa, Lamb keeps a large lemongrass plant right outside the front doors and uses the fresh leaves to create flavored water for clients.
Lemongrass Products
In the treatment room
:
The plant and scent take center stage throughout Lemongrass Spa's communal areas, but the ingredient is also a key player in services. Lamb most recently started incorporating Repêchage FUSION Matcha Lemongrass Face & Body Sugar Scrub as an exfoliation add-on to any facial on the menu. "It smells delicious and I love that you can use it on the face and body—not always the case with scrubs!" she enthuses. Lamb also opts for lemongrass to help clients with facial redness or rosacea, but she cautions that lemongrass essential oil must be well diluted before being applied topically. "It works nicely as an anti-inflammatory agent; just make sure to mix a few drops with a carrier oil, and work it gently into the skin," advises Lamb.
RELATED: The Science Behind the Skin Care All-Star Retinol
Montage Laguna Beach includes Éminence Rosehip & Lemongrass Soothing Hydrator (also formulated for used on the face and body) as a massage medium in the Laguna Beach Organic Radiance Facial (60-90 min./$245-$335). The cream is a lighter option (ideal during Southern California's seemingly perpetual summers) that soothes sunburn and irritation. "Clients adore the lemongrass scent: It's universal for men and women, and perfect for families," reports Gilliam. "I always advise them to bring the tube to the pool or beach and store it in their cooler."
The plant's aroma is also very popular with Colorado-based clientele. Spa Anjali staff incorporate Dazzle Dry's lemongrass-infused Remove lacquer remover and Be Silky Callus Spray into every nail service, especially the Spa Anjali Manicure & Pedicure (60 min./$85). "Not only does it smell nice, but the lemongrass helps mask the odors that typically make a salon smell like … well, a salon!" laughs Castruita.
Fun Facts
• There are several species of lemongrass, but Cymbopogon citratus is the variety used most often for medicinal purposes.
• Lemongrass can grow to be 5 feet tall, and its leaves can be upwards of 10 mm wide.
• The chemical compound myrcene, found in lemongrass essential oil, has been shown to help decrease pain.
• Lemongrass is effective against 22 strains of bacteria and 12 types of fungi.
• In India, leaves of lemongrass are added to hot bathwater to treat severe headaches and fevers.
• Citronella is sometimes mistaken for lemongrass; although they're related, they're two different and distinct plants.
–by Rachel Kossman
This story first appeared in the May issue of Dayspa magazine. To receive the magazine, click here to subscribe.
[Images: Courtesy of manufacturers; Getty Images]