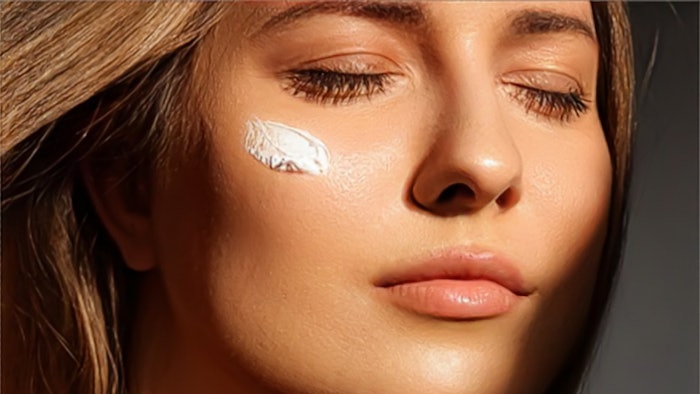 The global sun protection active ingredients market is estimated to reach $816.3 million in 2023, and further expand at a CAGR of 5.3% to reach $1,370.3 million by the end of 2033, according to a report by Fact.MR
The market for sun protection active ingredients has grown as a result of regional economic expansion and customer desire for high-quality cosmetics with longer shelf lives. This is expected to give the market an opportunity to grow to $373.6 million between 2028-2033.
As consumers become more educated about the risks associated with exposure to UV radiation, they are more likely to seek out sun care products that offer effective protection against the sun's rays. Also, skin cancer rates have been rising in recent years, driving demand for sun care products that can help to reduce the risk of skin cancer.
Related: UV Booster Market to Boom as Interest in SPF Protection Peaks
The titanium dioxide segment is expected to hold the prominent market share of 17% of the global target market. Sun care lotion is expected to garner a value share of 34.6% share of global sales by 2023. Between the years of 2018 and 2022, the demand for sun protection active ingredients increased at CAGR of 4.1%. Market in China is also anticipated to grow with a CAGR of 6.6% during the forecast period.
Prominent sun protection active ingredients manufacturers include: BASF SE, Symrise AG, Koninklijke DSM N.V., Ashland, Sunjin Beauty Science Co. Ltd., Croda International PLC, Salicylates and Chemicals Pvt. Ltd., Clariant AG, Galaxy Surfactants and L'Oréal.
In 2022, Ashland Inc. launched Sensiva Go Natural, which is a liquid multifunctional ingredient for personal care products and has broad spectrum efficacy combined with humectant properties. In September of 2021, DSM also launched a PARSOL EHT, which is a highly efficient UVB filter to progress in eco-friendly sun care products. This UVB filter can help in achieving a high SPF, even at low concentrations.