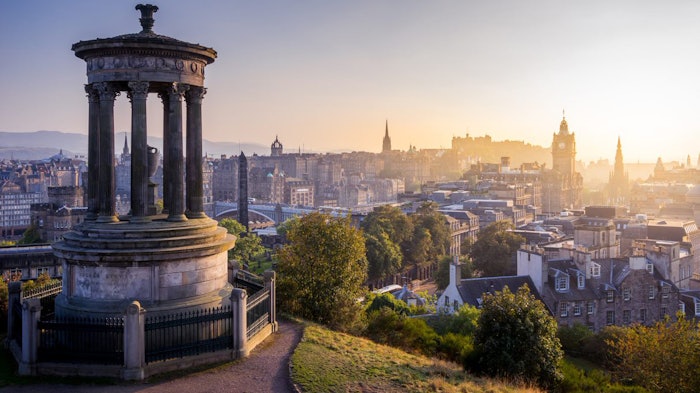 Expedia Group revealed a comprehensive analysis of traveler trends across Expedia, Hotels.com, Vrbo and the broader travel industry, sourced from the company's first-party data. The Unexpected Travel Trends in 2023 report indicates that consumers are: choosing travel locations based on their favorite TV shows, returning to big cities with plentiful culture and being more fiscally conservative, among other things. 
"When we look at Expedia, Hotels.com and Vrbo data together, we see a detailed and robust picture of travel into 2023," said Jon Gieselman, president of Expedia Brands. "We're seeing a surge in trips to culture capitals, a new wave of interest in wellness retreats and a spike in demand for outdoor destinations beyond just beaches and mountains—not a new normal but people branching out to unexpected trends in what we're calling the 'no-normal.'"
Related: 4 New Spas that Immerse Guests in Nature
1. Set-Jetters
The Expedia report indicates that streaming movies and TV shows are now top sources of travel inspiration (40%), outpacing the influence of social media (31%). TV shows are just as influential as movies when it comes to travel inspiration.
In the U.S., more than two-thirds (68%) of travelers considered visiting a destination after seeing it in a show or movie, and 61% actually booked a trip. The top "set-jetter" destinations include New Zealand, the U.K., Paris, New York and Hawaii.
2. Culture Capitals
National parks and rural retreats were previously trendy, but consumers are now returning to big cities. Per the report, most of the destinations seeing the largest increases are culture-rich places where art and festivities are prevalent. Some highlights include the Edinburgh Fringe Festival in Scotland, WorldPride in Sydney and the cherry blossoms in Tokyo.
3. Three-star Superstars
In the U.S., many travelers are more concerned with value for money than ever before. Hotels.com data shows interest in three-star hotels is up more than 20% globally. In 2023, 40% of U.S. travelers plan to stay in one- to three-star hotels and 34% plan to book a vacation with added value inclusions, such as free parking or breakfast. One-third of travelers would rather go on more trips in three-star properties than splurge on a big luxury getaway.
4. New Wave Wellness
According to Hotels.com, more than half (53%) of Americans are seeking wellness breaks but want to experience something more exciting, citing boredom with the traditional wellness retreat. Millennials are driving the trend, as 60% of 25- to 34-year-olds are seeking out alternative wellness getaways. Most consumers want to explore new offerings in the U.S., but Gen Z is looking for wellness adventures in places like Norway, Turkey, Switzerland, Iceland and Sri Lanka. 
To capitalize on this emerging market, resorts are already catering to evolving traveler needs. The Loire Valley Lodge in France and Whitepod in Switzerland, for instance, offer advanced rejuvenation programs and hands-on activities that encourage travelers to get up close and personal with nature. Some popular alternative wellness activities identified in the report include forest bathing and fruit harvesting.
More: Top 10 Wellness Trends of 2023
5. Foodie-menties
Travelers are also looking for preferred amenities in their whole home vacation rentals, rather than focusing on location. More than half (57%) of travelers would rather book a unique vacation home in a lesser-known destination than a less interesting, less equipped vacation home in a popular area.
In that vein, consumers want food-based amenities in their lodgings, including outdoor kitchens, pizza ovens and air fryers. Additionally, nearly half of U.S. travelers (43%) plan to cut down on costs by cooking.
6. Cowboy-cations
Demand for vacation homes in U.S. western destinations increased by more than 30% from September 2021 to August 2022, as travelers sought a reconnection with nature. Additionally, 42% of U.S. travelers find inspiration in outdoorsy destinations and mind-blowing landscapes, both at home and abroad.
7. Hidden Gems
The top hidden gems for U.S. travelers in 2023 have one thing in common: beautiful lakes, where travelers can take in tranquil views. Demand for private vacation homes in unconventional destinations like Nampa, Idaho; Greensboro, North Carolina; and Spokane, Washington, has increased by 30% or more since September 2021, according the report.