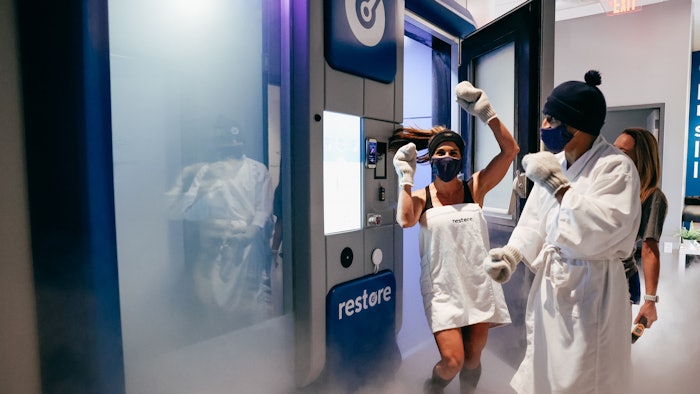 Photo courtesy of Restore Hyper Wellness
Restore Hyper Wellness  conducted a survey, in partnership with Wakefield Research, to benchmark a new category of care, "hyper wellness." Surveying 2,000 U.S. adults 18 and over, the report's findings detail how consumers are integrating hyper wellness into their everyday lives.
What Is Hyper Wellness?
Hyper wellness is defined by Restore Hyper Wellness as the nine elements that make up a healthy lifestyle:
Oxygen, 
Nourishment,
Cold,
Heat,
Light,
Movement,
Rest,
Connection.
The report revealed how consumers are adopting these wellness services, product and solutions, and further going into detail on how they can optimize their bodies and minds in their health journey.
Survey Key Results
More than half of Americans (54%) report that preventive health measures are a part of their routines.
25% of Americans who engage in preventative health and wellness activities say they couldn't go a full week without their health and wellness routine before experiencing negative mental and/or physical effects.
85% would be willing to try a new hyper wellness activity, service or product.
63% believe investing in hyper wellness activities, services or products can help them save money in the long term.
"As part of our ongoing commitment to providing accessible proactive care methods to the nation, we wanted to better understand how consumers are viewing health and wellness and how they integrate it into their lives," said Jim Donnelly, Restore Hyper Wellness CEO and co-founder. "We not only learn those behaviors through the report, but also categorize those modalities and introduce hyper wellness as an extension and complement to the traditional healthcare industry."