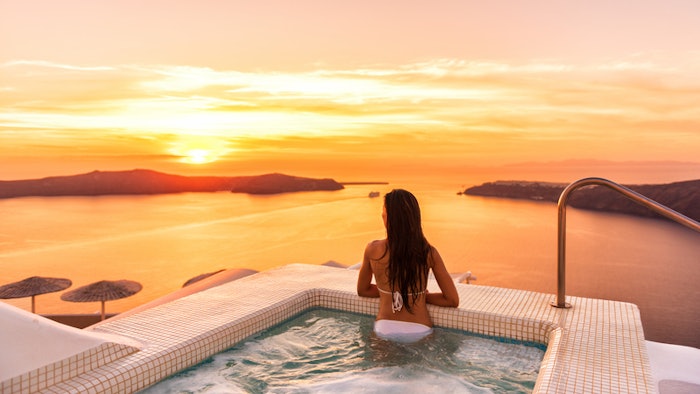 According to research from travel marketplace Skyscanner, American travelers are focusing more on relaxation and well-being during their trips in 2022. To compile the data, Skyscanner and OnePoll surveyed more than 1,000 Americans in April 2022.
The survey revealed:
88% of respondents agree that travel broadens our understanding of other cultures and demographics.
68% use holidays to disconnect from daily life.
29% dream of "wellness holidays."
27% said that relaxation was key, followed by food (18%) and cultural exploration (21%).
24% said that travel has a positive impact on both their mental and emotional well-being.
Further, Skyscanner reports that these locations will be travel hot spots in 2022, based on the company's data: 
Costa Rica offers stunning rainforests, beaches and river valleys filled with wildlife. Travelers will be looking for geothermal pools and education through traditional ceremonies. 
Greece boasts crystal-clear waters, luxury and natural beauty, as well as ancient history and philosophy. It also contains a number of wellness resorts and relaxation offerings.
California, arguably the birthplace of "restorative travel," has experienced a rise in interest for 2022. This is likely driven by a need to disconnect from the stress of everyday life.  
Sedona, Arizona, hosts breathtaking and serene landscapes, as well as some of the most high-end resorts for relaxation. It's a hotspot for new age wellness and spirituality retreats, with many offering to improve spiritual, physical and mental well-being.
"The holistic benefits of travel are well documented, with 36% of American respondents sharing that travel had a positive impact on both their mental and emotional well-being. The destinations trending for American travelers in 2022, the likes of Costa Rica, Greece and domestic wellness hotspots California and Arizona, reflect that heightened demand for destinations with relaxation at heart," said Naomi Hahn, VP strategy and global travel expert at Skyscanner.