A study conducted by the Global Wellness Institute (GWI) and Access Corporate Group has identified the losers and winners in the international health and wellness space during the pandemic, and has predicted exciting growth patterns for 2022.
The research revealed that: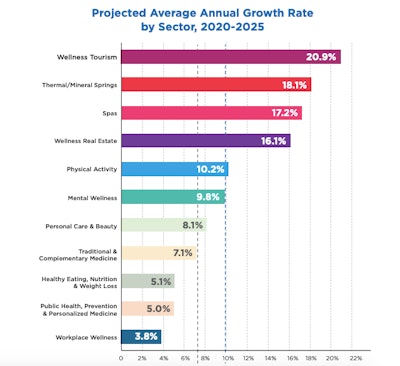 The wellness economy will grow 60% from 2020-2025, with most segments projected to exceed GDP growth across those years.
Markets with the highest growth projections (wellness tourism, thermal/mineral springs and spas) are those that took the greatest hits in 2020.
Workplace wellness, which suffered during the pandemic, is set to grow with companies taking a more holistic approach than prior to the pandemic.
The traditional and complementary medicine market, including holistic, indigenous, ancient therapies and products, will see a 7% annual growth from 2020-2025, reaching $583 billion.
Although personal care and beauty took a big hit, consumer spending is expected to bounce back with a projected 8.1% annual growth rate from 2020-2025.
Consumers are looking for more medical offerings by spas and wellness businesses. As such, immunotherapy, IV drips, gut microbiome, sleep analysis, oxygen therapy and the like are increasingly showing up on spa menus.
 The widespread realization that self-care is essential for physical and mental health will create many opportunities for the wellness tourism, spa and thermal/mineral springs sectors.