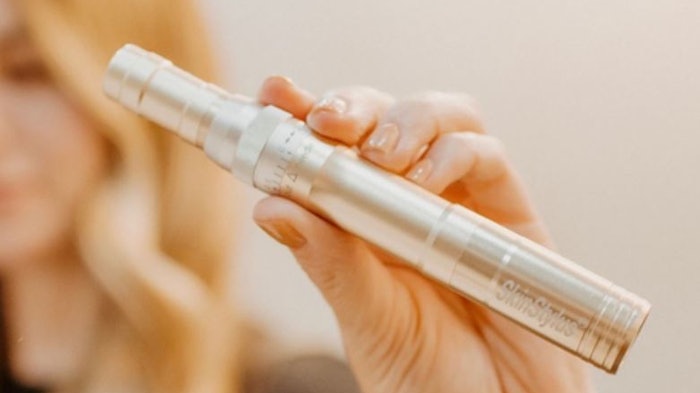 Photo courtesy of SkinStylus
The Beauty Health Company announced a definitive agreement to acquire SkinStylus, an FDA-cleared microneedling device. Expected to reach $1 billion U.S. market size by 2030, microneedling is highly complementary to a Hydrafacial treatment and one of the most common co-treatments offered by providers. 
The SkinStylus microneedling device is categorized by the FDA as a class II Medical Device and is cleared as clinically proven to improve the appearance of surgical or traumatic hypertrophic scars on the abdomen in adults aged 22 and older. In time, BeautyHealth intends to seek FDA clearance for additional indications and regulatory approvals in other markets outside of the U.S.
"Our long-held vision for BeautyHealth is to build an interconnected platform of brands and services that answer the booming consumer demand for seamless access to beauty health experiences and that support our community of estheticians and providers in delivering amazing services," said BeautyHealth's President and Chief Executive Officer, Andrew Stanleick. "SkinStylus is a best-in-class microneedling device and, as an esthetician-founded brand, is grounded in real world insights from the treatment room. We are excited to roll out SkinStylus broadly to our Hydrafacial Nation."
Related: A Review of RF Microneedling vs. Energy-based Devices
Upon successful integration of SkinStylus into the BeautyHealth portfolio, the company expects upside from the acquisition in 2024 and beyond. 
The Beauty Healthy Company also announced its financial results for the full year and fourth quarter ended in Dec. 1, 2022. Full year 2022 net sales of $365.9 million increased 41%, relative to 2021, and fourth quarter net sales of $98.1 million increased 26%, revealing consistent mid-to-high quarterly growth year-over-year. 
The company reported a net income of $44.4 million and adjusted EBITDA of $47.7 million for the full year. On continued momentum and demand for its differentiated offering, BeautyHealth expects a 2023 net sales of $450 million to $470 million. 
"I am proud of the significant progress our team made this year. We achieved strong annual sales growth, launched Hydrafacial Syndeo, our innovative next generation delivery system, and continued to build the world's premiere skincare booster portfolio," said Stanleick. "We enter 2023 from a position of strength, having invested to expand our global capabilities and scale. As planned, we are now turning our focus to driving profitable growth and flawlessly executing our international Syndeo launch in the second quarter."