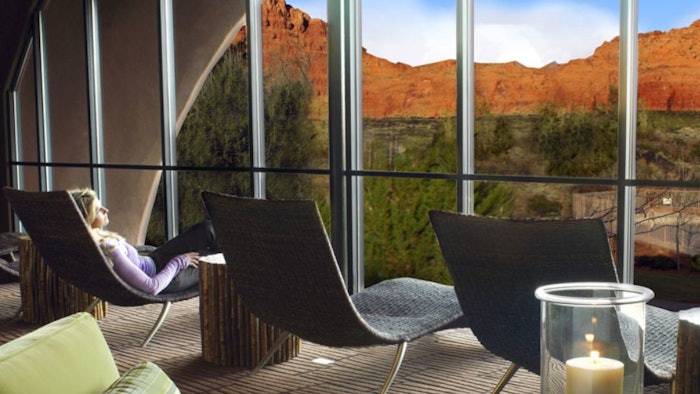 Photo courtesy of Red Mountain Resort
The spa and wellness travel website, Spas of America, announced its Top 100 Spas of 2022, providing insight into consumers' favorite spa and wellness experiences of the last year. We've got the top 20 spas that you should know, with the rest featured on the Spas of America list. 
The number one spa for 2022 went to Utah's fresh air inspired Red Mountain Resort's Sagestone Spa & Salon. The resort offers a fitness and hiking program with luxury accommodations that inspire guests to pursue health, wellness and balance. 
"This was a healthy year for the North American spa and wellness industry, with many resort and hotel spas reporting increased bookings," says Spas of America president, Craig Oliver. "We see the trends of 2022 carrying over into 2023 with people taking longer trips, going on more of them, and spending more to take them."
The Top 100 Spas of 2022 list includes 81 from the U.S., 13 from Canada and six from Mexico. 
Related: Top 10 Skin Care Trends Of 2023
Top 20 Spas of 2022
Red Mountain Resort, Ivins, Utah
Scandinave Spa Blue Mountain, The Blue Mountains, Ontario
Spa by JW, JW Marriott Charlotte, North Carolina
Skaná, The Spa at Turning Stone Resort, Verona, New York
Spa at the Shoals, Marriott Shoals Hotel & Spa, Florence, Alabama
Spa by JW, JW Marriott Water Street Tampa, Florida
Verandah Fitness Club & V-Spa, The Hilton Anatole, Dallas, Texas
Spa at Ross Bridge, Renaissance Birmingham Ross Bridge Golf Resort & Spa, Birmingham, Alabama
Elora Mill Hotel & Spa, Elora, Ontario
Feathers Spa at the Peabody Hotel, Memphis, Tennessee
The Spa at Beau Rivage, Biloxi, Mississippi
Sunstone Spa at Agua Caliente Resort Casino Spa, Rancho Mirage, California
The Spa at Estancia La Jolla, California
The Pearle Hotel & Spa, Burlington, Ontario
The Spa at The Wentworth, New Castle, New Hampshire
Vetta Nordic Spa, Oro-Medonte, Ontario
Mtn. Laurel Spa, Stonewall Resort, Roanoke, West Virginia
Elements Spa at Minerals Hotel, Crystal Springs Resort, Vernon Township, New Jersey
Crystal Spa, Crystal Mountain Resort & Spa, Thompsonville, Michigan
Boathouse Spa and Baths, Oak Bay Beach Hotel, Victoria, British Columbia
Rankings are determined by unique page views from spa and wellness travel consumers who visit Spas of America throughout the year. The Top 100 Spas of 2022 comprises 12% of all spa listings on Spas of America's website.