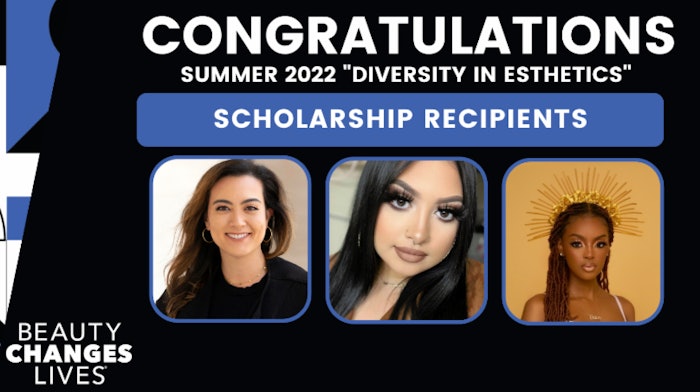 Photo courtesy of PCA SKIN.
PCA Skin and Beauty Changes Lives have announced the Summer 2022 "Diversity in Esthetics" Student Scholarship winners. The awards were created in 2022 with the purpose of increasing the representation of diverse esthetics professionals. 
The "Diversity in Esthetics" Student Scholarship recognizes outstanding diverse students to encourage their selection of esthetics as a program of study and entry into the profession. The funds help pay for their esthetic program, and the students receive exclusive professional development opportunities. 
Related: Ivy Beauty x Feel Beauty Announce Scholarship Program with PBA
Student Scholarship Winners
Cimma Sefat: Skyline College, San Bruno, California
Tadaija Woodside: Elevate Salon Institute, Miami
Cassandra Amaro: Paul Mitchell The School, San Antonio, Texas
Each winner also received an educational ride-along with a local PCA Skin business development manager virtual mentorship with a senior manager.