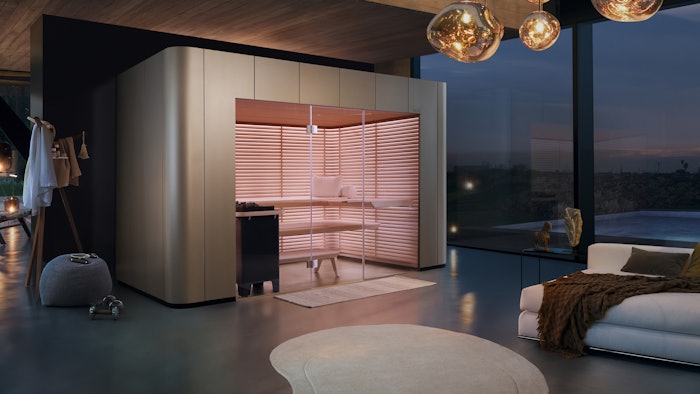 Photo Courtesy of KLAFS
KLAFS has introduced the S11 Sauna, the latest in its line of design-forward collaborations with renowned architects, designers and design studios. The S11, designed by Studio F.A. Porsche, makes its U.S. debut at the WestEdge Design Fair LA, from November 16-18.
The S11 takes the user on a sensory journey of heat, light, color and sound designed to relax both the body and the mind. Users can choose from pre-set chromotherapy (color therapy) and audio programs, "Pulse of Nature," "Magic Blue Sea," "Night and Light," Relaxing Amber" and "Colorful Senses," or create their own customized journeys.
Related: Top 5 Physical & Mental Benefits of Sauna Sessions
Drawing inspiration from the iconic Porsche design philosophy, the sauna features clean lines, refined edges, and an understated elegance that sets it apart from traditional sauna designs. Under the careful guidance of Studio F.A. Porsche, every detail of the S11 Sauna has been purposefully curated to breathe life into the concept of harmonious luxury.
The S11 Sauna offers an array of groundbreaking features that exemplify KLAFS' commitment to innovation and user-centric design, including cutting-edge temperature management technology, intuitive controls and customized seating options. The sauna incorporates eco-friendly materials and energy-efficient technology to minimize its environmental impact, combining intelligent heat management systems, responsible sourcing and low-emission construction methods while ensuring a superior sauna experience.
The S11 Sauna is exclusively available on the KLAFS USA website.
"We are thrilled KLAFS chose to partner with Studio F.A. Porsche, a pioneer in world-class design, to create a sauna that transcends traditional boundaries and elevates the art of relaxation," said Matthew Williamson, COO of KLAFS USA. "With the S11 Sauna, we aim to provide customers with an oasis of tranquility, where aesthetics and technology coexist in harmony."