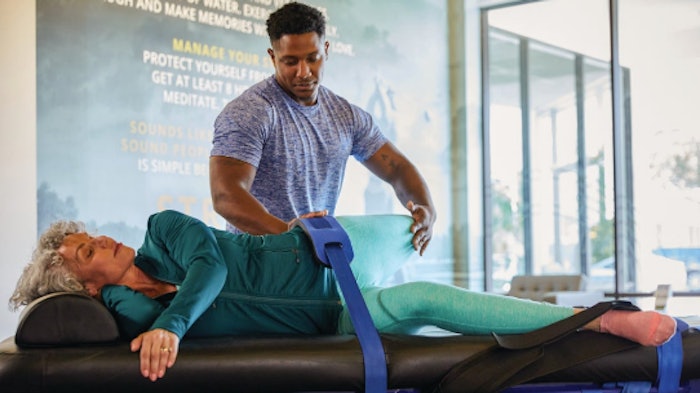 Photo Courtesy of Stretch Zone
Stretch Zone, an assisted stretching brand with a patented strapping system on proprietary tables, is actively working to open new locations across New York. With a five-studio presence in the Albany/Saratoga vicinity and a number of additional locations in Nassau County, Long Island, the company now seeks to expand its footprint across the rest of the state, including New York City, Syracuse, Rochester and Buffalo.
Related: Assisted Stretching is Trending as a Popular Health Offering
"We are excited to extend our presence throughout the entire state of New York, reaching and serving its diverse communities," said Tony Zaccario, president and CEO of Stretch Zone. "Over the past year, we have successfully opened 100 new locations, offering our services to communities nationwide and positively impacting countless lives."
Founded by Jorden Gold in 2004, Stretch Zone got its start from a desire of wanting to help his Pop-Pop regain mobility. Gold, who was working as a trainer at the time, utilized his background in the wellness industry to start stretching his grandfather, who had been bedridden due to age and a variety of health complications. He realized through this process that there was room to develop a new approach that amplified the results from stretching. Gold spent months pioneering a proprietary training method that uses a table and straps to help achieve long-lasting effects that truly impact day-to-day life.
Stretch Zone is also actively looking for experienced franchise owners who have a passion for helping their communities. The brand functions from a franchisee-first approach and is open to both multi and single-unit operators to help carry out the brand's mission.
"We welcome like-minded franchisees who share our unwavering commitment to serving local communities," Zaccario said. "Our brand's strength lies in our robust support system for franchisees, which has propelled us to establish 300 thriving locations, all without a single studio closure. Our resilience and the equity we offer as a franchise opportunity remain steadfast and resolute."