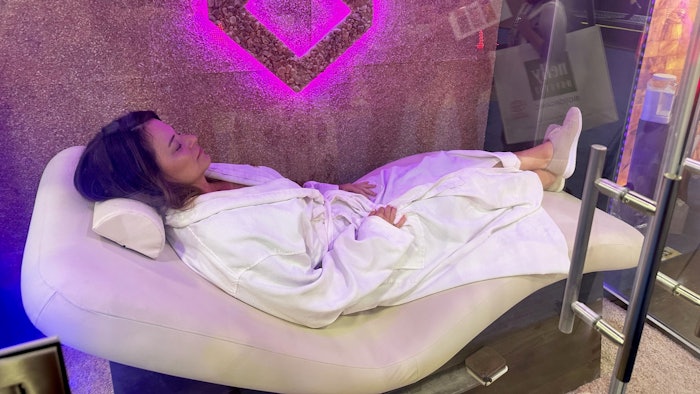 Photo courtesy of SALT Chamber
SALT Chamber introduced The Wellness Suite at the 2023 International Spa Conference at Mandalay Bay in Las Vegas from May 9-11. The Wellness Suite introduces a new level of multisensory wellness, as it draws from the elements of nature to create an immersive experience that tantalizes every sense.
Hundreds of spa professionals experienced a salt treatment in The Wellness Suite at ISPA, which was complimented by the Oakworks Curva Lounger with SoVi Vibroacoustic System to combine soothing and healing sound and vibration therapy to create an experience that engages all the senses.  
At the core of The Wellness Suite is the SALT FX halogenerator that disperses a very fine dry salt aerosol for respiratory and skin wellness. Modularity is at the forefront of the design, allowing spas to customize the décor, seating, and floor options to suit their individual preferences. The interior boasts several design elements crafted with Himalayan salt to create a relaxing, ambient environment. 
Related: Salt Chamber Develops First Standalone Resort Salt Room at the Tierra Luna Spa
The innovative aspect of The Wellness Suite is that not only can guests enjoy the respiratory and skin benefits of salt therapy, but they can "experience salt plus" which is a number of complementary modalities for a truly bespoke experience. The multiple wellness modalities spas can combine include: 
Myndstream Intentional Audio
Guided Meditation
Sound & Vibrational Therapy
Body Compression & Lymphatic Drainage
Red Light Therapy
Yoga & Stretching
PEMF Therapy
Breathwork 
"The Wellness Suite was a huge hit with the corporate groups and spa directors wanting to combine salt therapy with other modalities to create signature experiences," said Leo Tonkin, CEO of SALT Chamber and Chair of the Global Wellness Institute's Respiratory Wellness Initiative. "Salt has become a staple for spas, corporate wellness programs, and even residential buildings focused on healthy longevity. The ability to combine salt with other modalities allows for next-level personalization and efficacy."