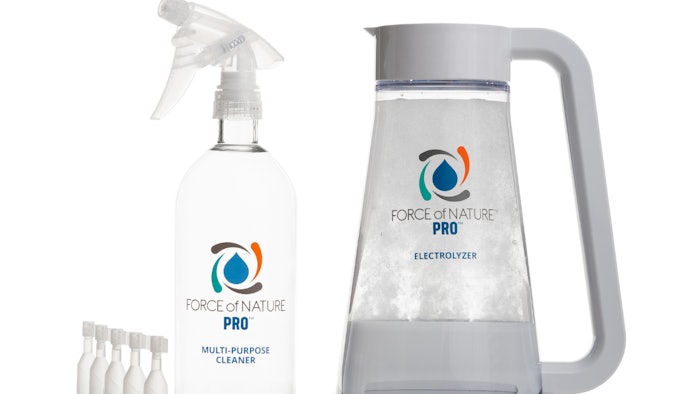 Photo courtesy of Force of Nature
Force of Nature announced its status as the first certified Carbon Neutral disinfectant in the industry. The toxin-free, cleaning brand's appliances use electricity to convert salt, water and vinegar into an all-in-one cleaner, deodorizer and EPA registered disinfectant formula. 
The Force of Nature systems eliminate all single-use plastic bottles, and through their partnership with ClimatePartner, the company has also achieve Carbon Neutral certification. In collaboration with ClimatePartner, Force of Nature has assessed its carbon footprint across its supply chain and operations, including sourcing, production, distribution and packaging.
The company is supporting an internationally recognized and certified carbon offset project, which aims to reduce emissions by transitioning to sustainable wind power. By switching to Force of Nature, customers reduce plastic waste by 97% compared to typical bottled cleaning products.
Related: Universal Companies' Force of Nature Disinfectant is Now a Spa Exclusive Brand
ClimatePartner helps businesses calculate, reduce, and offset their carbon footprints through a range of solutions and certified climate protection projects. The partnership with Force of Nature is a part of ClimatePartner's mission to work with businesses to make sustainability a core part of their operations.
"As a company, sustainability is at the core of what we do." said Posa. "After years of being the only Green Seal certified disinfectant, we're excited to join the ranks as the only ClimatePartner certified Carbon Neutral disinfectant," said Sandy Posa, CEO of Force of Nature. "We're extremely proud that Force of Nature has 10 times fewer emissions than a typical bottled cleaner."