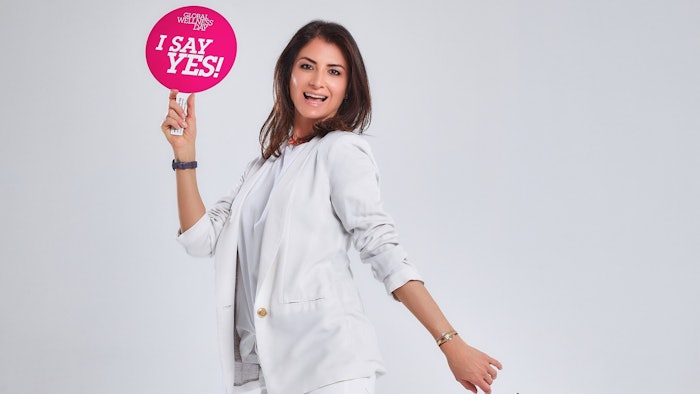 Photo courtesy of the Global Wellness Summit
Global Wellness Day (GWD) is preparing for its 12th annual celebration on June 10, 2023, and have announced the theme as #DanceMagenta. #DanceMagenta is a set of actions centered around dance, which has an increasing value within the international wellness world.
In 2022, Global Wellness Day reached millions of people around the world by placing its color – magenta, at the center of simple actions with the theme #ThinkMagenta; underlining that Global Wellness Day is not a single day, but a philosophy that spans the whole year. Following its global success, Pantone, the world color authority, announced the color of 2023 as magenta.
For this year's event, 140 Global Wellness Day ambassadors, key supporter and volunteers invite people of all ages to celebrate with dance, bringing together tangible and intangible aspects of dance with three basic steps: dance with your body, dance with your thoughts and dance with life. The steps aim to spread the #DanceMegenta philosophy communities and beyond. 
#DanceMagenta Steps
Dance with your body: whatever style you choose; dance is a unique form of exercise. Dancing is good for the body.
Dance with your thoughts: add dance to your meditation while relaxing. Dance in your mind. Free your dreams.
Dance with life: don't resist, stay in the flow and trust the process. Add music to your life. Let music bring you happiness. Start your day with music, fall asleep with music. Take control of the rhythm of your life.
Global Wellness Day's official audio partner, Myndstream, curated the GWD Anthem "Good to You" by Taura Stinson with producer Darien Dorsey. The anthem will be performed by vocalist, Brianna Mazzola, and will be released globally on June 10, 2023, setting the tone for a day of wellness and celebration around the world. 
"To us, dance is the universe moving within you. To dance is to free yourself and to be one with the world. Dancing is getting away from stress, exercising your body and spreading happiness at the same time" says Global Wellness Day Founder, Belgin Aksoy. "Global Wellness Day invites you to choose what is good for your body, soul and mind. With small but steady steps, you can travel great distances in life."
This year Ibiza, Ghana, Belgium, Tanzania, Bhutan, Seychelles, Cameroon, Mauritius, Senegal and Tunisia are among the new countries that have joined Global Wellness Day. All in person and virtual events organized this year continue to hold three main attributes: educational, non-commercial and complimentary.
Related: Registration Now Open for 2023 Global Wellness Summit in Qatar
Global Wellness Day Programming Highlights
Ibiza: The Public Administration Consell d'Eivissa, in collaboration with Ibiza Health and Beauty and Ibiza Travel, is all set to host a celebration of Global Wellness Day this year, at one of the most prominent music stages on the island – Hard Rock Ibiza. The event will feature local celebrities leading a series of masterclasses on fitness, Zumba, and BalletFit, among other activities.
Israel: The GWD Israel team has orchestrated a range of dance-centric activities, in conjunction with esteemed local dance studios. In an effort to garner support and raise awareness for Global Wellness Day and the significance of well-being through dance, the team has also endeavored to engage with local municipalities and government organizations.
Italy: This year Bruno Lanfranco, President of FEDERSPA, has joined the GWD Italy team and with his efforts they are pleased to announce their collaboration with the Municipality of Turin, bringing together schools and dance enthusiasts in city squares. As part of this initiative, a network of Lindy Hop dancers will convene in 40 different cities across Italy to celebrate the spirit of Global Wellness Day's theme #DanceMagenta. Additionally, the DavinesGroup and [comfort zone] brands will organize a range of wellness-related activities to support this non-profit day dedicated to living well.
Kenya: The event will take place at Anzana Gardens in Nairobi and will include activities such as Zumba, meditation, and complementary wellness checks for all participants. In collaboration with Aarti Chandarana, a one-hour fitness class merging dance and Zumba will be held to remind participants that dancing is a form of exercise and an essential part of improving mental health.
Mexico: Global Wellness Day will be celebrated in various cities of Mexico such as Los Cabos, Careyes, Cancun, Oaxaca, Mexico City and more. With this year's theme being #DanceMagenta. activities will feature traditional dances such as "Flor De Pina" alongside sunrise yoga, dance, meditation and adventure activities in nature.
Montenegro: This year, the GWD Montenegro team has dedicated its efforts to promote the well-being of expectant mothers and children, with the overarching theme of #DanceMagenta. The team has planned a comprehensive range of activities, including prenatal yoga sessions, wellness seminars, art and music therapy, and dance workshops, all designed to enhance the physical and mental wellness of the participants.
Morocco: The GWD Morocco team has forged a collaboration with the renowned International Festival of Contemporary Dance – "On Marche." The festival's 16th edition, held in Marrakech, will pay tribute to Global Wellness Day by featuring curated dance performances and conducting contemporary dance workshops for individuals of all age groups at the esteemed Es Saadi Marrakech Resort. 
New Zealand: The GWD New Zealand team has set an ambitious target to host no fewer than twenty-five events across the nation on Global Wellness Day, A diverse range of brands, including schools, fitness centers, health clubs, wellness retreats, resort and day spas, and thermal resorts, along with wellness education trusts, have rallied behind the cause and pledged their support. The venues will offer a range of activities, including free community yoga classes, laughter yoga sessions, open gym days and fitness classes, as well as house dance competitions, group dance sessions, and Zumba classes, all of which will be infused with the captivating #DanceMagenta theme.
Serbia: Global Wellness Day 2023 will witness a grand dance gala event in Belgrade, organized in collaboration with Armydance Dance School. Distinguished dance schools from Belgrade and various other cities in Serbia will partake in the festivities and perform a spectacular array of Latino, traditional folk, and historical dance styles. Additionally, Mövenpick Resort & Spa Fruške Terme, Vrdnik, will host a large-scale outdoor event to mark the occasion.
South Korea: 

Gyeongpo

Beach

sponsored

by

Gangwon-do

Provincial

Government,

Oak Valley Resort and Park Roche Resort & Wellness will be hosting different GWD celebrations in South Korea featuring activities such as Dance Pilates, Balance Chair – Gyrokinesis, Singing Bowl, Tracking in Forrest and Pilatesing.
Sweden: Together with Myråsskolan, primary school of Borås and all other schools around the town will be encouraged to participate in the Global Wellness Day celebration for children. The weeks before June 10, workshops regarding nutrition, physical activities and the environment will be taking place. A special dance, with simple steps, will also be choreographed for the children to perform. 
Switzerland: Several distinguished brands and venues, such as Four Seasons Hotel des Bergues, Fairmont Le Montreux Palace, Grand Resort Bad Ragaz, Glion Institute, and Hôpital de la Tour, among others, are to host various Global Wellness Day celebrations in Switzerland. The celebrations will include a wide range of wellness activities, including singing bowl meditation, a nutritious vitamin breakfast, an organic tea workshop, and dance sessions featuring the vibrant rhythms of Latino, Salsa and Bachata.
Thailand: Thailand's leading wellness resort, Chiva-Som, will host a series of wellness activities in collaboration with Zulal Wellness Resort by Chiva-Som in Qatar, as well as a special medical aid mission to "No Man's Land" at the border of Thailand and Myanmar with Global Wellness Day Founder, Belgin Aksoy. Sindhorn Kempinski, Capella Bangkok, Pullman G, Four Seasons, The Standard, Santiburi Koh Samui, SAii Koh Samui Choengmon, SAii Laguna Phuket and SAii Phi Phi Island Village and many more will also be celebrating GWD with activities such as beach cleaning, morning dance session, healthy breakfast, sunrise meditation, healthy cooking demonstrations, fitness workouts, Thai Dance lessons, kid's yoga and much more.
UAE: The celebrations will feature a variety of #DanceMagenta themed activities, including chakra dance sessions on the beach, yoga and fitness sessions and more. Several prominent landmarks and malls, including Burj Khalifa, Ethiad Arena, Yas Mall, and Al Ain Tower, are in the talks to be illuminated in GWD's signature color magenta to show support for this global day dedicated to wellness.
United States: Four Seasons Hotel Baltimore will organize their second annual "Run to Beat Cancer 5k" on June 10. The 3.1-mile route boast scenic promenade surroundings of Baltimore all while raising funds for cancer research and resources. 100% of proceeds will support the Johns Hopkins Medicine Kimmel Cancer Center's Division of Pediatric Oncology and the Ulman Foundation, a dedicated community of support for young adults impacted by cancer. Four Seasons Hotel Los Angeles at Beverly Hills on June 10 will once again start with yoga on the Helipad with top Alo Yoga Ambassador, followed by a healthy lunch and mini wellness activities. Opal Spas based in Florida, New York, Maine and New Hampshire will offer complimentary Zumba classes, unique meditation exercises encouraging participants to incorporate dance into their mindfulness practices, as well as Binaural and Theta Wave Therapy a recovery station with chair massage and Therabody jet boots and Theraguns. Designed and created with wellness at its core EVEN Hotels by IHG will be bringing Global Wellness Day celebrations across its portfolio of hotels based in Colorado, New York, Washington, Minnesota, Maryland, Florida, Texas, Georgia, Oregon and Michigan featuring yoga sessions, fitness and outdoor games as well as healthy cooking demonstrations.
Look for the hashtag #globalwellnessday and #DanceMagenta to follow what happens around the globe on June 10.