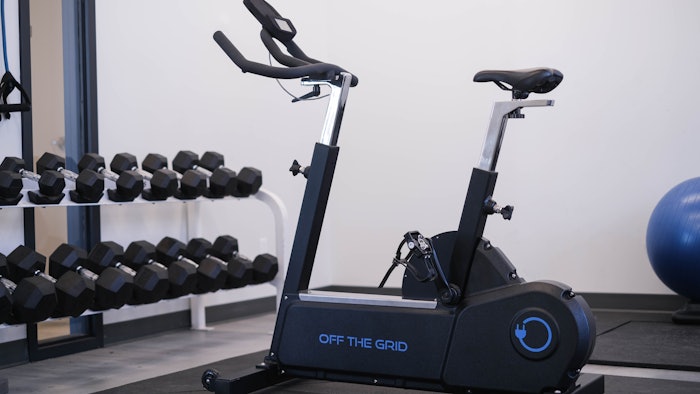 Photo courtesy of Off The Grid
The electric stationary bike company, Off The Grid (OTG), raised $950K during their pre-seed financing round in 2022. The Montreal-based fitness equipment startup closed its pre-seed financing, allowing it to improve the product, start pilot projects and acquire new clients while keeping a lean approach to its startup. 
OTG created its stationary bike that converts the energy deployed by users into electricity. To stay in line with company's values, the products are made and assembled in Québec. 
In 2022, multiple Universities, Cégeps, and corporations bought OTG bikes to encourage students and workers to live healthier lifestyles, while also having a positive impact on the planet. Influential figures in the fitness space also got to try the bike and were impressed by its features.
Related: How to Improve Your Spa's Fitness Offerings
The OTG bikes are a certified Product of Québec and use Rio Tinto aluminum. They are also certified by Solar Impulse, a foundation that advocates for solutions to fight climate change. 
OTG plans to hold a seed financing round this year to continue to grow the business. The brand also wants to launch an app that will allow users to track their performance, compete with friends and earn rewards. OTG aims to encourage gyms, schools, and corporations to opt for more environmentally friendly choice when purchasing fitness equipment.