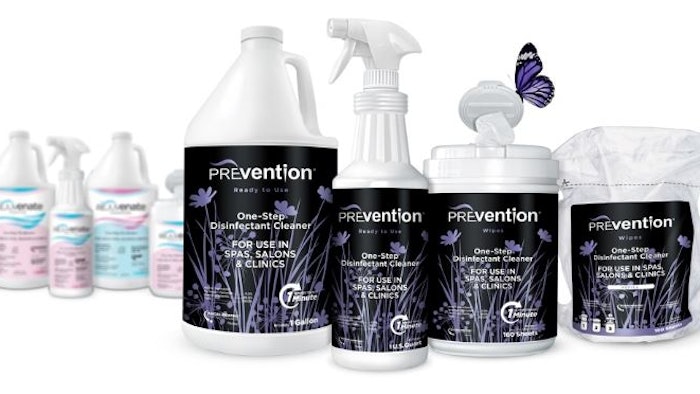 Photo courtesy of Prevention Disinfectants
Virox Technologies Inc. announced that its Prevention brand of one-step disinfectants has been so well received by beauty professionals, that it has led to the discontinuation of the previous Rejuvenate brand.
The quick adoption of the fastest, safest and easiest way to maintain germ-free spas and salons has gained such a following in the U.S., that the brand will now solely sell the Prevention disinfectants to industry pros.
"While we're sad to bid farewell to Rejuvenate, Prevention disinfectants have exceeded expectations, given the great user feedback we've been receiving. We look forward to seeing more and more spas and salons adopting Prevention as their preferred cleaner disinfectant to keep beauty professionals and their clients safe," said Dan Woolford, Senior Director for Virox Technologies Inc.
Related: Prevention Now Available at Massage Warehouse & BodyWorkMall
Prevention disinfectants continue to deliver hospital grade efficacy without resorting to the use of harsh chemicals that can lead to harmful side-effects. Beauty professionals can clean and disinfect workstations and treatment areas more efficiently between client appointments, saving valuable time.
Another exciting announcement is the introduction of a Refill Wipes format. By replenishing wipe canisters with a refill pouch, beauty pros can reduce the disposal of single-use plastic by up to 90%, while also saving money.
Spas and salons can now contribute to their sustainability goals while also looking after the environment with Prevention's biodegradable formulation.