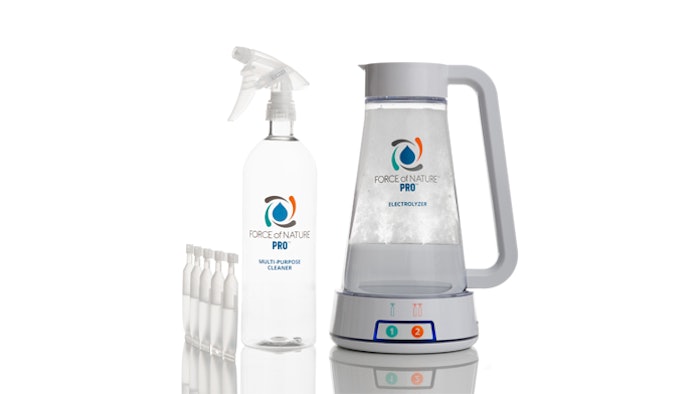 Photo courtesy of Force of Nature
Universal Companies announced that Force of Nature, the planet-friendly, toxin-free cleaner and EPA-registered disinfectant, is now a spa exclusive brand. The company's chief executive officer, Karen Short, made the announcement to its spa partners. 
Force of Nature ends the compromise between cleaning and health with appliances that covert salt, water and vinegar into a multi-purpose cleaner. The formula kills viruses and bacteria without the use of toxic chemicals, and eliminates single-use plastic bottles, all-purpose glass and bathroom cleaners, deodorizers and disinfectants with one formula. 
Related: Force of Nature Launches Green Disinfectant for Commercial Use
The disinfectant also earned the highest rating by the Mayo Clinic's SkinSAFE & Green Seal certification. 
"Working in the wellness space, we understand the concern our customers and their guests have when it comes to harsh chemicals," said Short. "Our partnership with Force of Nature will allow wellness providers to make a significant impact on the health and safety of their staff, clients and the planet."