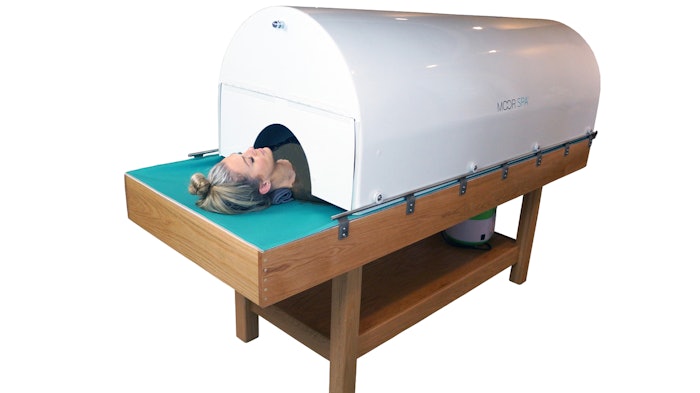 Courtesy of Moor Spa
Moor Spa launched its Integrated Spa System designed for body wraps, salt glows, aromatherapy, hydrotherapy, massage, hair treatments and more. 
The Integrated Spa System transforms any spa dry room into a hydrotherapy set-up. The system includes a wet table, six head Vichy Shower, steam canopy and handheld shower. A hot and cold water supply, drainage access and a minimum 10 x 15 ft. space is all that is required for the system.
Related: Hydrotherapy Benefits and Applications from Kohler Waters Spas
The steam and Vichy shower treatments are encapsulated with a fiberglass canopy that glides easily in all directions along the table and swivels into an upright position at the foot of the table when not in use. This movement allows for full access to a client for the application of body wraps, exfoliation and hair treatments, as well as full-body or partial massage. 
After applying body treatment products, rather than wrapping clients in mylar, plastic sheets or wet towels, the canopy can instead be pulled over the client, along with the steam generator. The clients will be encased in warm aromatherapy-infused steam, which will intensify its benefits and minimize the required duration of the treatment. 
After about 20 minutes, the Vichy showers will provide your client with a therapeutic hydrotherapy experience. There is then a handheld shower that can be used to rinse off any residual product remaining on the body.