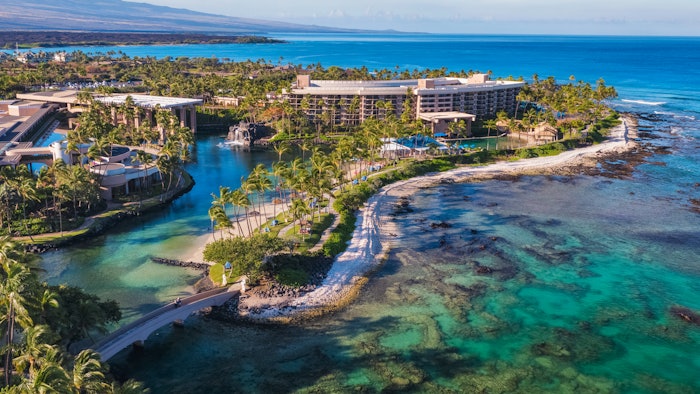 Photo courtesy of Hilton
Hilton received recognition for its global leadership in sustainability, earning including on both the World and North America Dow Jones Sustainability Indices (DJSI), one of the most prestigious rankings for measuring corporate sustainability performance. 
This is the sixth consecutive year that Hilton has been included in the Hilton has ranked in the indices, which recognizes performance among long-term economic, environmental and social criteria. Hilton scored in the 100th percentile in the Hotels, Resorts and Cruise Lines category. 
Related: GSN Planet Calls for Board Applicants to Promote Spa Sustainability
The company was also recognized by EcoVadis with a Gold Medal designation, representing its place in the top five percent of more than 100,000 companies analyzed. Hilton has been recognized by EcoVadis every year since 2012, and was most recently awarded with a Silver Medal designation in 2021. 
Hilton's Gold Medal designation is based on its performance across 21 sustainability criteria covering four major themes: environment, labor and human rights, ethics and sustainable procurement. Hilton's procurement arm, Hilton Supply Management, continues to make significant advances in the company's ethical sourcing initiatives. 
"Hilton is proud to have received these two prestigious recognitions from S&P Global and EcoVadis, which serve as markers of Hilton's continued dedication towards protecting and preserving the environments where we operate, driving positive social impact in the communities we serve and building a more sustainable world for the future," said Erica Gordon, senior vice president and global head of public affairs & ESG for Hilton.
The brand has also adjusted their greenhouse gas emissions goals, which aim to cut emissions by 75% in its managed hotels and emissions intensity by 56% by 2030. This goal has been validated by the Science Based Targets initiative (SBTi), a global body enabling businesses to set emission reduction targets in line with the latest climate science.