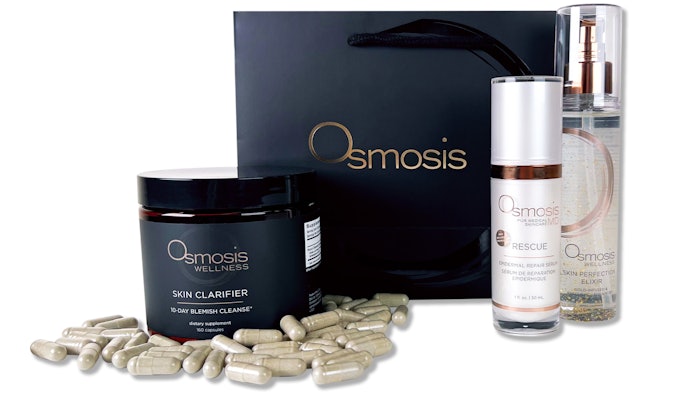 Osmosis Beauty is promoting a 10-day guided cleanse from January 10-20, 2023. The Osmosis Beauty Clarity Cleanse provides internal and topical detoxification to support healthy digestion and improve the complexion. The 10-day regimen includes three products: Skin Clarifier Cleanser, Rescue Epidermal Repair Serum and Skin Perfection Elixir, in addition to selling strategies and nutritional suggestions to complement the campaign.
Related: Habits That Holistically Nourish the Skin
Participants will receive 10 days of Clarity Cleanse emails that serve as a guide to the detox experience, offering support on everything from food to mood. Osmosis Beauty is also offering a special promotion on Clarity Cleanse through December 2022: buy five Skin Clarifiers and Rescue Epidermal Repair Serums, and get five Skin Perfection Elixirs and five retail bags for free ($530 package). 
The first step of Osmosis Beauty Clarity Cleanse, Skin Clarifier 10-day Blemish Cleanse, gently removes the digestive tract of unwanted toxins and mucus that develops acne, eczema or blackheads. 
Rescue Epidermal Repair Serum neutralizes toxins, calms inflammation and activates epidermal wound and DNA repair to improve skin texture and age spots.
Skin Perfection Elixir is a supplement that supports healthy digestion and skin complexion.