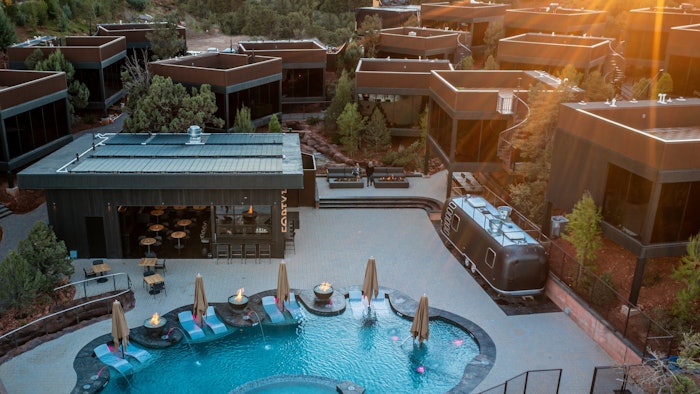 Courtesy of Ambiente, A Landscape Hotel
Ambiente, A Landscape Hotel is ready to make its debut n Dec. 26, 2022, in Sedona, Arizona, as the U.S.'s first landscape hotel. 
Velvet Spa is an intimate, five-room space offering a range of restorative treatments that integrate locally sourced ingredients and transformative healing properties for which Sedona is known for. A variety of guest programming rotates seasonally and includes morning yoga, sound healing classes, guided stargazing sessions and more. 
Related: 5 Innovative Wellness Treatments From New Velvet Spa
Ambiente saw no need for an on-site fitness center and instead encourages guests to explore the outdoors. 
The red rocks of Sedona are on full display at the adults-only destination, with 40 cubed-shaped, glass-encased atriums floating about the terrain. The design focuses on sustainable methods and organic, modern architecture that complement the neighboring topography and minimize the impact on land.
The resort site's natural waterways have been reactivated and run through the red, iron-oxide rich soil to create a natural ecosystem. Aquatic plants and the water's movements are used to achieve biological balance without chemicals. 
"This has been a labor of love for our family over the past five years and we have been so overwhelmed by the outpouring of interest and support from future visitors around the world," said Jennifer May, co-founder of Two Sister Bosses, a Sedona-based family development company. "We're now ready to pull back the curtain and showcase what we believe is one of the most spectacular settings in all of America."